550lb bull flees slaughterhouse, stops traffic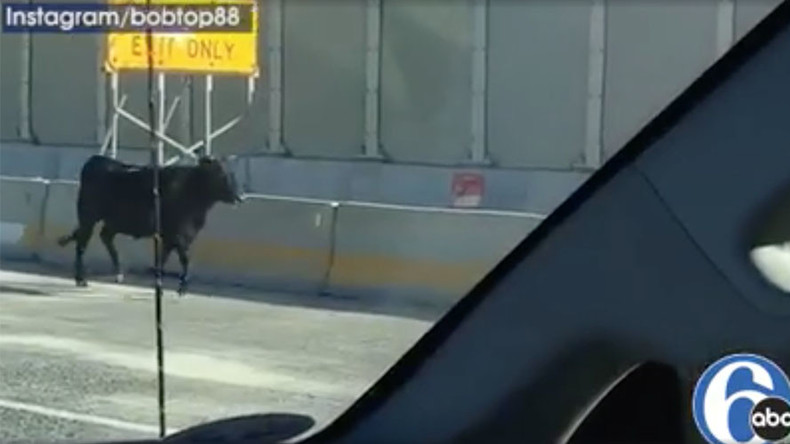 A young bull escaped a Philadelphia slaughterhouse, leading police on a four mile chase past a city high school and onto highways, causing a gridlock.
The animal broke free from a truck while he was being unloaded at a slaughterhouse and in his dash for freedom stopped traffic on Interstate-95 in Philadelphia on Tuesday afternoon.
A worker at the plant, who refused to give his name, told WCAU that the staff were preparing to unload the bull from the truck when it charged at them and ran off.
He wandered for four miles through several city neighborhoods and onto two highways while its owner tried to get it back on his trailer.
The bull made its way towards the Delaware River and onto the northbound lanes of Interstate-95, heading against traffic.Stunned drivers stopped their cars as he meandered through the jam.
Wildlife Conservation Officer Jerry Czech was driving on I-95 when he saw the bull run by and confronted him with a 12-gauge shotgun. Czech told the Philadelphia Inquirer he fired three shots to bring down the bull after it hid in some bushes.
"Due to public safety issues and being in Center City Philadelphia, I was directed by a captain of the police department to assist them in putting the animal down for public safety reasons. We generally don't do this. We're wildlife officers, but in an extreme situation, an emergency situation, for public safety, we chose to put it down," Czech said.
He said it didn't make sense to capture the bull alive, because he was heading to the slaughterhouse anyway. No police or civilians were injured in the incident.