Not again! US Navy 'stealth' destroyer towed into port after another breakdown (VIDEO)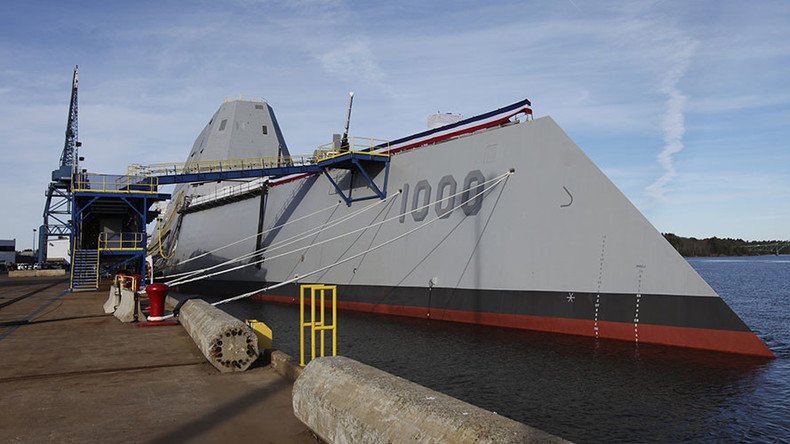 Built at a cost of more than $4 billion, the high-tech USS Zumwalt only made it to the Panama Canal while on its first journey to its home port of San Diego. A malfunction left the warship in need of tugboats so that it could reach the closest port, where it remains under maintenance.
Passing southbound through the Panama Canal on Monday evening, the USS Zumwalt crew discovered water seeping into two of the four bearings connecting the port and starboard Advanced Induction Motors, or AIMs, to the drive shafts, according to US Naval Institute News citing a defense official.
The AIMs are part of what makes the Zumwalt the most high-tech, and most expensive, destroyer in the US Navy's history. They generate up to 78 megawatts, allowing the 610-foot, 15,000-ton ship's propulsion to rely entirely on electrical power.
However, Zumwalt was at the mercy of tugboats Monday night. They towed the ship to a former US naval station in Panama, where it is still being worked on. The problem may not be fixed for another 10 days, a defense official told USNI.
The unusually angular warship, shaped to evade radar detection, endured "minor cosmetic damage" when it collided with canal walls, the Portland Press Herald reported. It was on its way to San Diego, where it would join the US 3rd Fleet and be ready for action in 2018 after some weapons systems are installed.
Third Fleet spokesman, Commander Ryan Perry, issued a statement late Monday, Defense News reported.
"Vice Adm. Nora Tyson, commander, US Third Fleet, has directed USS Zumwalt (DDG 1000) to remain at ex-Naval Station Rodman in Panama to address engineering issues that occurred while transiting the Panama Canal," the statement read. "The timeline for repairs is being determined now, in direct coordination with Naval Sea Systems and Naval Surface Forces. The schedule for the ship will remain flexible to enable testing and evaluation in order to ensure the ship's safe transit to her new homeport in San Diego."
READ MORE: Captain Kirk takes delivery of US Navy's futuristic stealth destroyer
This is the second major break down for the Zumwalt. In late September, just two weeks after leaving Bath, Maine, where it was constructed, it sprung a leak in its auxiliary motor drive oil system, Popular Mechanics reported.
Two other "stealth" destroyer ships in Zumwalt's class are currently under construction.
You can share this story on social media: