Tennessee school bus driver allegedly asked kids if they were 'ready to die?'
Published time: 22 Nov, 2016 23:48
Edited time: 23 Nov, 2016 12:35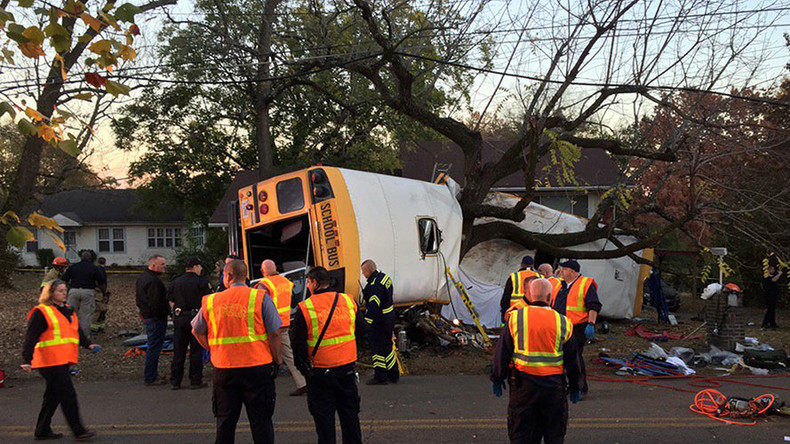 A mother of three children who were on the Chattanooga school bus that crashed, killing five kids, alleged that two of her children told her that the bus driver said words to the effect of, 'are you all ready to die?'
Moments later the bus was on its side, five children were dead and 20 others were injured. The mother lost one of her three children in the crash.

"The mother says that in the moments before the crash, the bus driver said something to the effect of 'Are you all ready to die?'" CBS News correspondent Mark Strassmann said, according to WWJ-TV.
The names of the children killed have not yet been released, but authorities said three were in fourth grade, one was in first grade and one was in kindergarten. Police said Johnthony Walker, 24, was speeding along a narrow, winding road Monday afternoon with 35 elementary school students when he wrapped the bus around a tree.
Police said Walker was driving over the speed limit when he lost control of the bus.
"Mr. Walker lost control of the bus and swerved off of the roadway to the right, striking an elevated driveway and mailbox, swerved to the left and began to overturn, striking a telephone pole and a tree," the affidavit says.
Witness statements and physical evidence showed that Walker was traveling "at a high rate of speed, well above the posted speed limit of 30 mph," according to the affidavit.
Chattanooga Police Chief Fred Fletcher said the driving conditions were clear, and no other vehicles were involved in the crash.
Investigators are still working on what caused the crash. The National Transportation Safety Board sent a team to investigate, and police obtained a warrant to remove the bus' black box, which contains data on the vehicle's movements.
Walker has been arrested and charged with five counts of vehicular homicide. Additional charges include reckless driving and reckless endangerment. His bail was set at $107,500 for a court appearance on November 29.
Twelve children are still in the hospital, and six remain in intensive care.
Walker's mother, Gwenevere Cook, received a phone call from her son after the crash who told her he'd been in a "drastic accident," but as he tried to explain what happened, police took his phone away.
"When he talked to me, he was terrified," Cook said, according to CNN and Tribune Media.
"He was trying to get them [children] off the bus – all the bodies were limp. There was blood everywhere. He has been cooperating with the police. He texted me minutes later saying the kids are dead," she said.
Cook asked for compassion for her son, describing him as a respected man who worked two jobs and had never been in trouble before and a father of a 3-year-old son.
"It is a horrible nightmare," she said. "I feel bad for my son, and I am torn up for the [victims'] family members."
The Associated Press reported, however, that Walker had an accident involving property damage in September, and his license was suspended for about a month in 2014 for failure to show proof of insurance, according to state commercial driver records. Authorities said he appeared to have no criminal record in the state.
Craig Harris, a parent of two children who were on the bus, told ABC's "Good Morning America" he thought the bus driver sometimes drove too fast.
"There has been times where I've seen him going a little faster than he probably should be going," Harris said.
Harris said his daughter and stepson were in shock and pain after the crash.