'Worst nightmare': Multiple children killed in school bus crash in Tennessee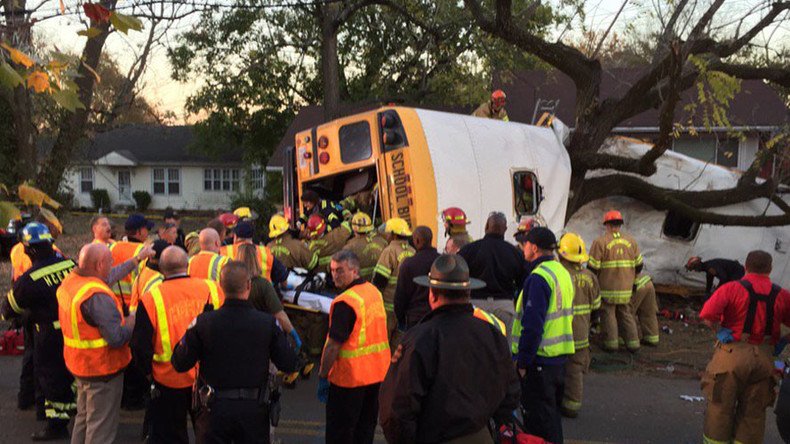 Tennessee officials confirmed that there are fatalities in a school bus crash in Tennessee's fourth largest city of Chattanooga. The bus driver has been charged with five counts of vehicular manslaughter.
At least five children died on the bus, while one died in the hospital, according to the Hamilton County District Attorney's office, WTVC reported. Chattanooga Police Chief Fred Fletcher later reiterated that figure, but cautioned that police could not confirm an official death toll.
In a late Monday evening press conference, Chief Fletcher reported the arrest of Johnthony Walker, who is charged with five counts of vehicular manslaughter, reckless endangerment and reckless driving. More charges may be pending for the 24-year-old bus driver.
Warrants have also been issued for police to acquire the bus's black box and camera footage.
My heart goes out to the families of the children that were killed & injured in the school bus crash in Chattanooga this evening. TT

— Colonel THP (@THP_Colonel) November 21, 2016
"At this time we cannot identify who they are until we notify all the parents," Chattanooga police said during a press conference Monday evening.
Multiple fatalities are involved in this bus crash. However, contrary to media reports, no firm numbers have been confirmed yet. #ChattFire

— Chattanooga FireDept (@ChattFireDept) November 21, 2016
The bus contained 35 students, from kindergarten to 5th grade, of Woodmore Elementary school, Police Chief Fred Fletcher said during the press conference.
Pictures from the scene show the badly damaged bus on its right side, splitting in the middle from impact with a tree.
Officials earlier reported about least 23 students had been taken to Children's Hospital at Erlanger after what officials described as a "serious" school bus crash.
Officials including County Mayor Jim Coppinger, City Mayor Andy Berke, Interim Superintendent Dr. Kirk Kelly, District Attorney Neal Pinkston, and several school board members have been to the scene.
Local station WDEF reported that the need for blood donations was "critical," and that Blood Assurance centers in Chattanooga would stay open until 7:00pm.
A bus driver is currently being questioned and is cooperating with investigators, police said. It has been reported that the bus driver has hired an attorney, while the bus company has agreed to hand over any recorded video.
"This is every first responder's worst nightmare," Chattanooga Police Chief Fred Fletcher told reporters at a press conference.
He said that speed "is being investigated very strongly" as one of the factors that might have contributed to the crash.
Chief Fletcher said that it was "clear and dry" when the accident happened, but refused to speculate further of possible factors that could have affected the situation, saying that it was a very "complicated crime scene."
The bus was carrying children from Woodmore Elementary School, when it crashed into a home and turned over on its side. Fletcher has said that there were a total of 35 people on the bus at the moment of the crash. He specified that children were between Kindergarten age and through fifth grade.
Superintendent Dr. Kirk Kelly of the Hamilton County Department of Education told reporters Monday evening that school would remain in session Tuesday and that counselors would be made available.
Tennessee Governor Bill Haslam (R) has issued a statement on the "tragic event," vowing "to assist in any way."
"It's a sad situation anytime there's a school bus with children involved, which there is in this case. We will do everything we can to assist in what I think is going to be a very sad situation," he said, as cited by the Tennessean.
Congressman Chuck Fleischmann (R-Tennessee) has posted a statement saying, "I am absolutely heartbroken over this tragedy and I will pray for the children and their families."
You can share this story on social media: