Tribal elder hospitalized after suffering cardiac arrest in DAPL clashes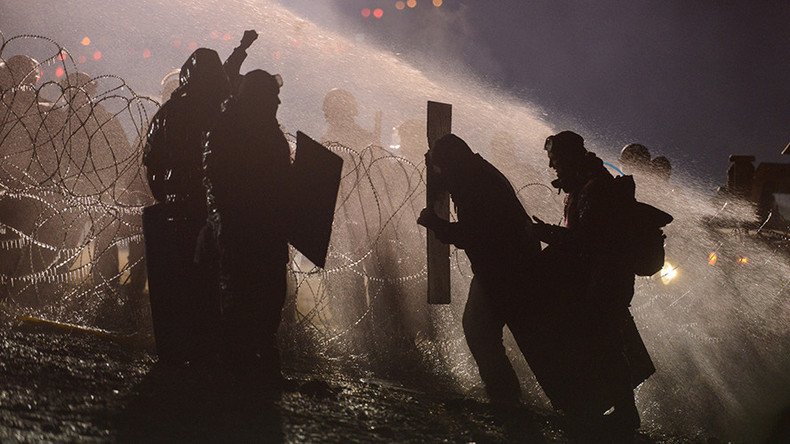 An unidentified elder is in critical condition after going into cardiac arrest at the scene of violent clashes between law enforcement and water protesters at the Dakota Access Pipeline site.
Demonstrators and heavily-armed law enforcement clashed on Sunday at Backwater Bridge on Highway 1806, where police used pepper spray, rubber bullets and a water cannon against protesters that had been blockaded on the bridge by authorities. The winter temperatures of below freezing make the powerful water cannon even more dangerous.
"At least one elder went into cardiac arrest," Angela Bibens, legal representative of the Water Protectors Legal Collective, told Indigenous Environmental Network organizer Dallas Goldtooth on Sunday, adding that the tribal elder "was revived by CPR at the front lines by medics."
The elder is one of hundreds of demonstrators injured at the pipeline protests, with seven people hospitalized for severe head injuries on Sunday.
Indigenous Rising Media said police were targeting protesters' heads and legs. Legal observers from the National Lawyers Guild confirmed multiple protesters were unconscious and injured after being hit in the head with rubber bullets.
Bibens described protesters losing bowel function, witnessing at least one seizure, people vomiting and the water cannon mixing with the mace.
According to Native News Online, tensions escalated after protesters moved a burnt out truck that had been blocking the bridge for weeks. The blockade has impeded emergency services from reaching the camp where water protectors gather, as well blocking access to the Standing Rock Sioux Reservation.
"It was to open up the road so in the daylight the world can see the face of militarized law enforcement and state oppression," explained Goldtooth.
"It is below freezing right now and the Morton County Sheriff's Department is using a water cannon on our people, that is an excessive and potentially deadly use of force," he added. "Tribal EMS are stepping up and providing services that should be the responsibility of Morton County. This is ridiculous.
"Because of the police-enforced road block, ambulances now have an extra 30 minutes to get to the hospital. Those are life-and-death numbers right there, and Morton County and the State of North Dakota will be responsible for the tally."
Morton County Police claim, however, that protesters were rioting and being "very aggressive," although reports from the scene say protesters remain peaceful despite attacks from authorities.
Protesters' actions have been branded "illegal" by Morton County Sheriff Kyle Kirchmeier, who also says the campsite used by protesters is "insufficient to protect them from the elements."
"We've seen that many of these protesters are not from North Dakota and may not be familiar with the harshness of our winters," Kirchmeier said. "We urge them to leave the camps and seek appropriate shelter for their own health and safety."
Protesters have been demonstrating against the $3.7 billion pipeline for months. If completed, it would transport oil from North Dakota to Illinois.
There is concern that the pipeline violates Native American land treaties and will destroy sacred land as well as damage the water supply. The pipeline is planned to go under the Missouri River.
You can share this story on social media: