167 DAPL protesters injured in altercations with N. Dakota police - reports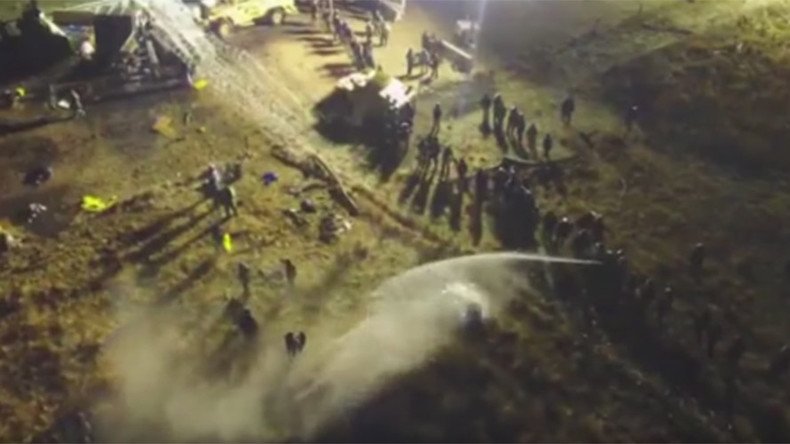 A total of 167 demonstrators have been injured while protesting the Dakota Access Pipeline in North Dakota, according to a medic on site, as cited by Indigenous Rising Media.
Police are reportedly targeting demonstrators' heads and legs.
Seven people have been hospitalized for severe head injuries. Three of those injured are reportedly elders of the Standing Rock Sioux tribe.
"There's been no signs of violence on the side of the [water] protectors. We've seen some folks being injured...it really does feel like a warzone, and it doesn't feel like we're in America in 2016," a protester told Indigenous Rising Media, calling the situation "very scary."
The reported injuries come as North Dakota police continue to deploy tear gas, rubber bullets, mace, and water cannon against demonstrators protesting the pipeline at the Oceti Sakowin camp.
READ MORE: 400 DAPL protesters 'trapped on bridge' as police fire tear gas, water cannon (VIDEO)
The authorities have blockaded protesters on a bridge at Highway 1806 and forced them to endure tear gas, according to Kevin Gilbertt, who has been broadcasting the protests live on Facebook.
"The options are endure the tear gas or trample each other," he said.
Gilbertt has reported that the demonstrators are peaceful and unarmed, but a statement from Morton County, North Dakota, where the protest is taking place, describes them as "very aggressive," claiming that they have attempted to start multiple fires at the scene.
However, a witness told Gilbertt that the fires were actually started by police projectiles.
Paramedics from Standing Rock EMT continue to remain at the scene, according to the report.
You can share this story on social media: