Case closed? US turns to deductive reasoning to blame strikes in Syria on Russia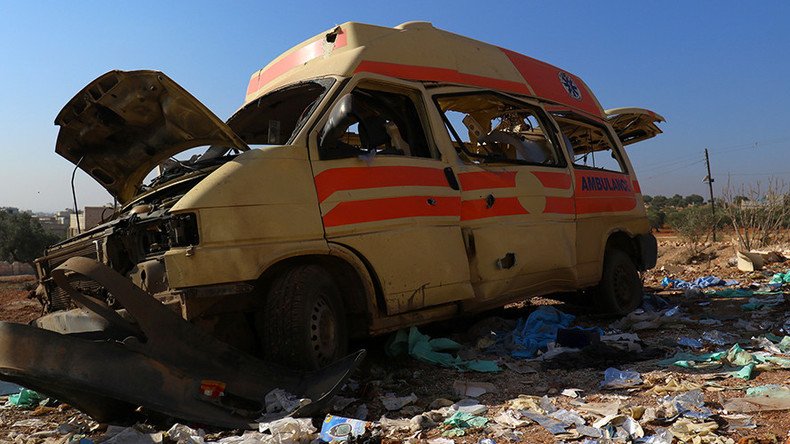 The US has used simple deductive reasoning, rather than evidence, to accuse Russia and the Syrian government of hitting hospitals.
"We know that they were not hit by the coalition airstrikes, so that leaves out only two other potential players here, and that's either the Syria regime, or their Russian backers," the State Department's spokesman John Kirby said during a briefing on Wednesday.
Since Tuesday, the State Department has been accusing Russia of "hitting mobile clinics […] hitting hospitals" in Syria.
In his Wednesday briefing, Kirby refused to provide any evidence of Russian forces' involvement or even the location of the hospitals, but said that "relief agencies that we [the US] find credible are leveling those accusations."
Instead, he lashed out at RT reporter for the new organization being government-owned.
The State Department later in the day provided RT with a list of sites that they were talking about.
The World Health Organization has issued a statement Wednesday, condemning "massive attacks on five hospitals" between November 13-15. The strikes targeted three hospitals in Western Rural Aleppo, two hospitals and a mobile clinic in Idlib. However, the organization made no mention of Russia or either side of the Syrian conflict.
RT has contacted the WHO, asking whether it drew any conclusion in its report and if so, could they have been misinterpreted by State Department officials.
"The WHO has no mandate nor expertise to define the cause of damage sustained by these hospitals nor to assign the blame, we focus on the impact on the delivery of health services," Tarik Jasarevic, a spokesman for the organization, said in an emailed statement.
READ MORE: 'Chilling': US State Dept. brushes off RT over Syrian humanitarian reports
Kirby was asked to clarify Thursday if he was or was not "accusing both Russian and Syrian militaries" of targeting hospitals in Syria and if the State Department makes any distinction between the two.
"We know it wasn't coalition aircraft, so it rather had to be Syrian or Russian aircraft. I don't know, and would not get into – as I never have from this podium – a specific discussion of each and every airstrike and who and how it was conducted. It's not for me to say," Kirby said.
He again insisted that he was making no accusation against Russia, but "was simply expressing concern."
"This isn't about accusations, and I'm not making accusations. I was yesterday expressing serious concern that we still have," he said, again referring to "credible accounts."
Kirby's answer raised question with one of the reporters, who asked to elaborate on how the State Department determines "what is credible and what is not" if it does not have its own assets on the ground. As an argument, the reporter pointed to rebels making "all kinds of claims."
In response, Kirby unveiled his Department's puzzle-like practice of building a case from "a variety of sources."
"We do the best we can knitting together a fabric of information sources that we have," Kirby responded. "There's a variety of sources that allow you to put together the best picture possible, but it's not perfect, and I've never said that it's perfect."
On Wednesday, discussion of the situation in Syria ended up with Kirby losing his cool over RT, saying he would not treat it like other respected new organizations in the briefing room.
In Moscow, his comment has raised a lot of commotion, with the Foreign Ministry calling it a "new form segregation."
A spokeswoman for the Ministry said the situation would be brought up during a meeting between Russian Foreign Minister Sergey Lavrov and US Secretary of State John Kerry in Peru.
Hours later in Lima, Lavrov mentioned the incident of Kirby dismissing RT reporter's question on the grounds that RT was a "state-owned outlet," but refused to discuss the conduct the spokesman's actions.
"[Spokesperson] Maria Zakharova has already stated what she thinks about this unacceptable incident. I suppose that does not reflect American values and is not the position of the State Department. [But] I'm not going to start every day with condemning Mr. Kirby," Lavrov said.
You can share this story on social media: