Schumer new leader of Senate Democrats, Sanders & Warren on board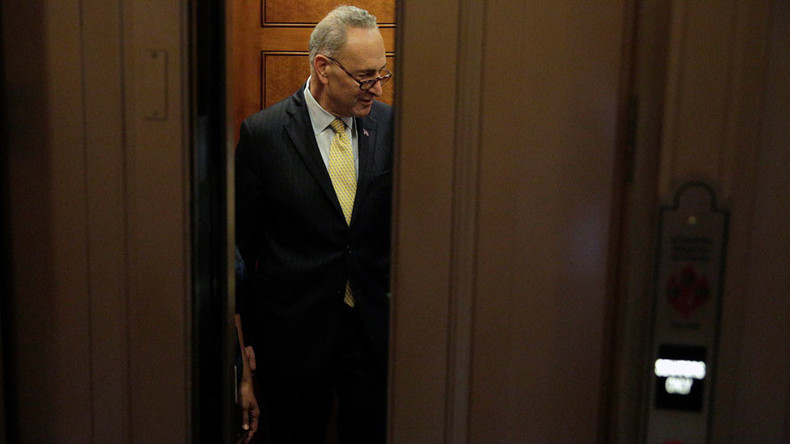 Senator Charles "Chuck" Schumer (D-New York) is the new Senate Minority Leader, while Elizabeth Warren (D-Massachusetts) is the vice-chair of the conference, and Bernie Sanders (I-Vermont) is the new chair of outreach.
Senate Democrats picked a new leadership on Wednesday, in the wake of last week's the stunning electoral defeat. Schumer replaces Harry Reid (D-Nevada), who is retiring from the Senate after 29 years.
Not all Democrats were pleased by the party's choice. Seventeen demonstrators were arrested on Monday during a "sit-in" inside Schumer's office. They called for appointing Sanders – who ran for the party's presidential nomination, but lost out to Hillary Clinton – the new leader. The Vermont senator is technically an independent, but caucuses with the Democrats.
The inclusion of Sanders and Warren suggests the Democrats are trying to bridge the rift between Clinton supporters in the party establishment and those calling for sweeping reforms following the electoral rout, which saw Clinton lose the Electoral College vote to Donald Trump and Republicans keep their majorities in both the House and the Senate.
The party is hoping Sanders will help bring together different factions of the Democratic caucus, according to Senator Debbie Stabenow (D-Michigan), who succeeded Schumer as chair of the Democratic Policy and Communications Center (DPCC).
"We have a tremendous amount of talent in our caucus and we want to make sure everyone is contributing," she told reporters.
Sanders will remain the ranking minority member on the Senate Budget Committee, where Republicans are expected to lead the fight to repeal Obamacare, according to The Hill.
"I'm going to do everything that I can to make sure that the budget that leaves the United States Congress is a budget that represents the needs of working families and a shrinking middle class and not billionaires," Sanders said.
House Democrats have postponed their vote on the new leadership until November 30. While no one has officially stepped forward to challenge her, the position of present Minority Leader Nancy Pelosi (D-California) looks precarious.
The Democratic National Committee will also need a new chair, and Sanders and Warren are backing Representative Keith Ellison (D-Minnesota) for the job.
Congressional Republicans have kept their old leadership, re-electing Paul Ryan (R-Wisconsin) as Speaker of the House and Kevin McCarthy (R-California) as House Majority Leader on Tuesday. Mitch McConnell (R-Kentucky) was re-elected as Senate Majority Leader on Wednesday.