Strike called for by 98% of UPS aircraft workers over health benefits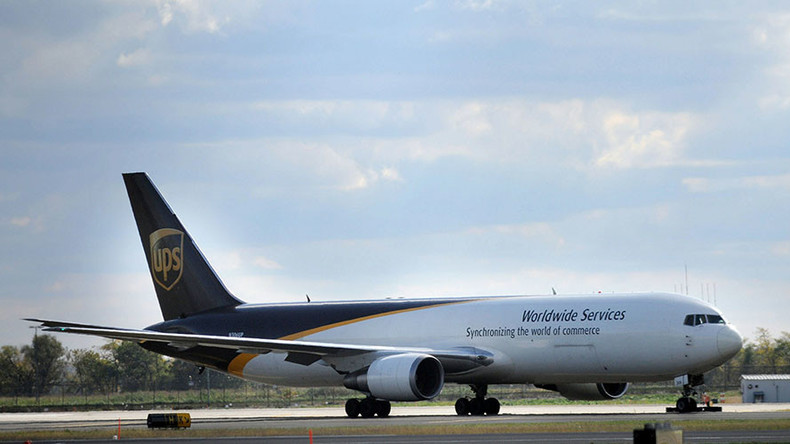 Essential UPS workers have voted, nearly unanimously, to strike against the shipping giant, threatening to halt delivery services globally. Employees are demanding fair healthcare as UPS cut benefits amid revenue growth and far reaching expansion plans.
"In total, 80 percent, 950 of the company's 1,200 maintenance employees, participated in the strike vote, and 98 percent of those workers voted in favor of a strike," Teamsters Local 2727, a union representing UPS workers, said Monday.
With a reputation of being among the world's leading delivery companies, United Parcel Service Inc's success in shipping essentially lies in the hands of mechanics who maintain hundreds of its aircraft daily, working "sometimes up to 39 hours straight."
This holiday shopping season alone, the company is expected to ship some 700 million packages worldwide.
It has been three years of negotiations between the Teamsters and UPS over its massive reductions in healthcare and benefits for retirees, who dedicated most of their time working for the company.
"UPS aircraft mechanics and other maintenance workers do physically demanding and often dangerous work around jet engine aircrafts and equipment and toxic chemicals and exhaust," the Teamsters said.
Yet UPS wants a price tag of more than $19,000 on health coverage for a retiree and his or her dependent in the first year and increase that each year thereafter, according to the union.
While cutting benefits, UPS has been adding to its revenue, in the third quarter earning $14.9 billion, up 4.9 percent over the same period of time in 2015.
In late October, UPS also sealed a $5.3 billion multi-plane deal with Boeing, placing an order for 14 jumbo aircraft between 2017 and 2020.
"We're glad that UPS can afford to invest in beefing up its international fleet," said Jim Kelley, a 29-year aircraft mechanic at UPS's Louisville, Ky. gateway. "But if UPS can afford major capital investments and huge raises for top brass, then UPS can also choose to invest in the maintenance workers who do strenuous and dangerous work every day to make its success possible."
However, while the workers might be eager to strike, they can't proceed right away. First, under the Railway Labor Act, before going on a strike, unions must obtain an approval of a federal mediator. With the presidential transition just about to go into full swing, it is likely that the Teamsters will have to deal with President-elect Donald Trump, but not sooner than his inauguration on January 20. The president may have to appoint an emergency board that will decide on whether to grant that permission. The process also includes several 30-day cooling off periods.
All of those requirements mean that it is very unlikely that the potential strike may land UPS in a shipping disaster amid holiday season.
UPS has issued a statement also assuring that its service would not be affected by its workers' overwhelming support for the strike.
"It's important to understand that the vote does not give Local 2727 the right to strike under US labor law," the company said. "A strike is not possible unless authorized by the National Mediation Board. The vote is simply a routine show of solidarity common in many negotiations."
The company has stressed that it keeps negotiating "in good faith for a contract that is good for our employees, our customers and our company."