At least 1mn of Obama-approved immigrants still risk deportation under Trump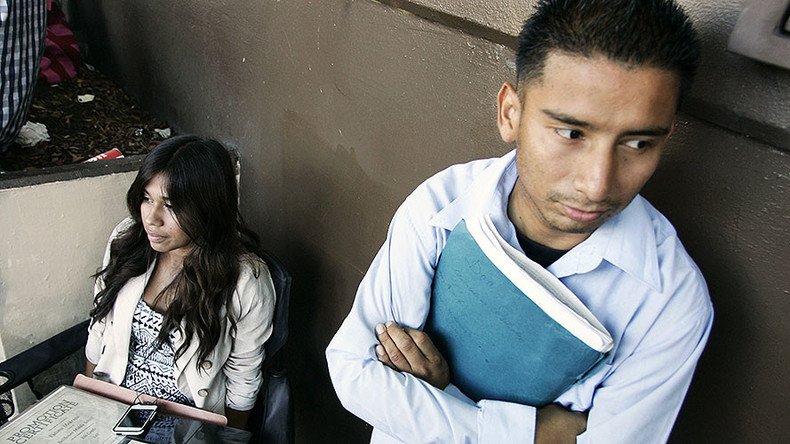 Over 1.3 million young immigrants, who have signed up for President Barack Obama's deportation relief program may be still at risk of being forced out should President-elect Donald Trump keep his promise to get rid of existing immigrant-friendly policy.
It has been over four years since the so-called Deferred Action for Childhood Arrivals (DACA) was enacted, shielding undocumented children of immigrants from deportation. Under the DACA, applicants under 31 years of age are required to prove that they are eligible to stay in the US and provide their private information to immigration services.
All those millions of people, who were brought to the US illegally by their parents, are unofficially referred to as DREAMers.
In 2014, Obama's executive action expanded DACA and even allowed parents of US citizens and green-card holders to sign up, too. This act is officially known by its acronym DAPA, which stands for Deferred Action for Parents of Americans.
According to data from the United States Citizenship and Immigration Services (USCIS), over 1.4 million young people followed the procedure between 2012 and 2016, and most of those requests have been accepted.
Worries among immigrants were already numerous when Trump appeared on the scene, showing his strong opposition massively-hailed Obama's immigration order.
Now, with Trump succeeding Obama in office, there are even greater fears that those who applied might be among first in line for deportation. In September, Trump vowed that an estimated 11 million undocumented immigrants would be "gone" on "day one" if he becomes president.
"I was surprised anyone would be stupid enough to sign up for DACA (Deferred Action for Childhood Arrivals) and DAPA (Deferred Action for Parents of Americans)," John Miano of the Center for Immigration Studies wrote in a blog post.
Miano says that even though the Obama administration assured that no information would be released to US Immigration and Customs Enforcement's (ICE) and US Customs and Border Protection's (CBP), there is no guarantee that this would not change. Yet, for that scenario, the Department of Homeland Security protected itself with a disclaimer saying that "this policy may be modified, superseded, or rescinded at any time without notice," Miano noted.
On Thursday, Gaby Pacheco, an immigrant rights leader, appealed to young immigrants to share what opportunities DACA has given them and how the action affected their lives.
"As we start the countdown to Trump becoming the president, we need to figure out ways to deter him from his campaign promise to overturn the #DACA program," she wrote.
Pacheco set off a wave of responses, all united under hashtag #WithDACA.
#WithDACA I was able to work legally, help with family & college expenses, and gain valuable experience that led to bigger opportunities

— DC. (@dieguito_C03) November 10, 2016
#WithDACA I was able to apply for a nursing program at a community college, I am halfway done and working towards BSN.

— Ramon Medina (@TDRayray) November 12, 2016
You can share this story on social media: