Dakota Pipeline decision to be reached within days – government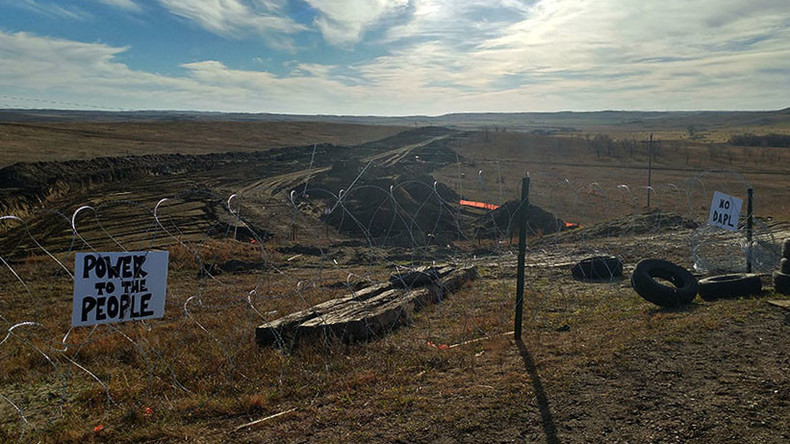 The final call on whether the Dakota Access Pipeline will get the go-ahead for completion close to land sacred to Native Americans in North Dakota will be made in the coming days, US government officials said.
Amy Gaskill, a spokesperson for the US Army Corps of Engineers said a decision could be reached as soon as Monday, as police clashed with protesters opposed to the controversial pipeline, Reuters reports.
According to Politico, the government is expected to approve access to building the pipeline across the Missouri River near the Standing Rock Sioux's reservation before Donald Trump takes charge of the White House, dealing a massive blow to activists.
Native Americans and environmentalist demonstrators protested against the pipeline throughout the summer and continued attempts to halt construction at a site off Route 6 in North Dakota on Friday.
A witness told RT that about 50-80 people engaged in what appeared to be a spiritual ceremony, and approximately half the group walked along the pipeline route. They were stopped by an officer and turned around, heading back to their starting point. More police arrived and some arrests took place right away. "It looked like they arrested a leader. They kind of just came up and grabbed him. It looked like they wanted him and were able to get him," the witness said.
"Police formed a line and started pushing people back down the road. I later heard that 39 were arrested. I left because I didn't want to be," the witness told RT.
Further witnesses told Reuters that protesters climbed into construction equipment, while smoke could be seen rising from an excavation vehicle in the area.
The controversial pipeline, which is set to run from North Dakota to Illinois, was delayed in order for federal authorities to re-review permits in September and has been contested by the Standing Rock Sioux Tribe who say the pipeline will destroy sacred burial sites, prayer sites and culturally significant artifacts.
The Obama's administration temporarily halted construction of the pipeline in September, but Energy Transfer Partners, the company that owns the project, continued building on the edge of federal land.
Protesters have said they will continue to demonstrate until the pipeline is stopped.