Second night of protests sweep nation following election of Donald Trump (PHOTO, VIDEO)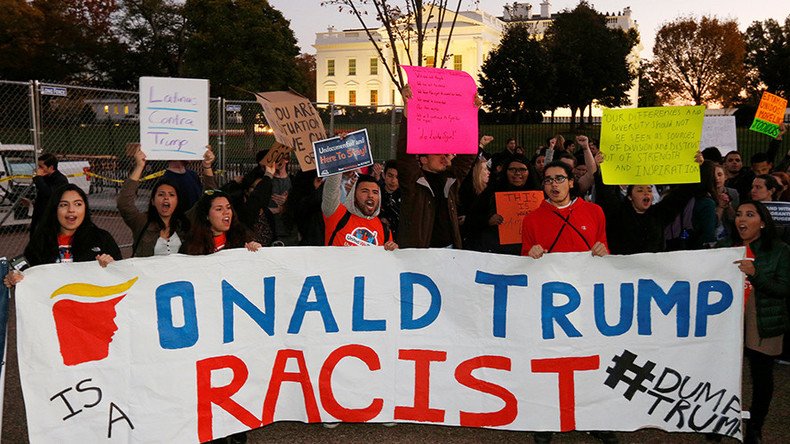 The nation continues to protest Donald Trump's victory in the 2016 presidential election. For the second night in a row, thousands of demonstrators across the country are taking to the streets in order to vocalize their displeasure with Trump's policies.
Follow RT's live updates on anti-Trump protests

In Philadelphia, a rally focused on women of color and survivors of sexual assault gathered at city hall around 5:00pm ET. Some 1,000 people are marching and commuters have been warned to expect delays, local CBS affiliate KYW reported.
Protests in Philadelphia have remained both peaceful and lawful, according to Southeastern Pennsylvania Transportation Authority Chief Thomas J. Nestel III.
He also noted that the protesters were respectful to law enforcement, saying that they were "thanking police for keeping them safe."
Protests also took place in Baltimore, Maryland. However, some arrests have been reported.
Protesters staged a demonstration outside of the M&T Bank Stadium where the Baltimore Ravens were playing the Cleveland Browns.
Protests have continued in Oakland, California. Earlier on Thursday, Oakland Mayor Libby Schaaf held a news conference to call for peace in the wake of Trump's election.
People told RT's Caleb Maupin that they are concerned about the changes Trump's presidency could bring.
Donald Trump responded to the protests by claiming that the once "rigged election" had been a "very open and successful presidential election," adding that the media was to blame for the "professional protesters." He called it "very unfair!"
Things are heating up in Milwaukee, Wisconsin where hundreds have gathered to protest Trump.
Similar demonstrations are happening in Grand Rapids, Michigan where crowds chanted, "not my president!" and "love trumps hate!"
Both Wisconsin and Michigan were swing states that narrowly went to Donald Trump.
Protesters in NYC gathered around Trump Tower for a second night. Organizers encouraged Trump supporters to come and protest hate speech and racially charged comments he made during his campaign.
Students in Southern California staged walkouts and participated in other anti-Trump demonstrations on Thursday. Many of the protesters were high school students, CW-affiliate KTLA reported. As many as 4,000 high school students from the Los Angeles Unified School district participated in demonstrations according to the Los Angeles Times.
Some protesters have used slogans such as "p*ssy grabs back" referencing a controversial video of Trump, or simply chanted "f*ck Trump."
You can share this story on social media: