EpiPen manufacturer posts $119 mn losses over price-gouging settlement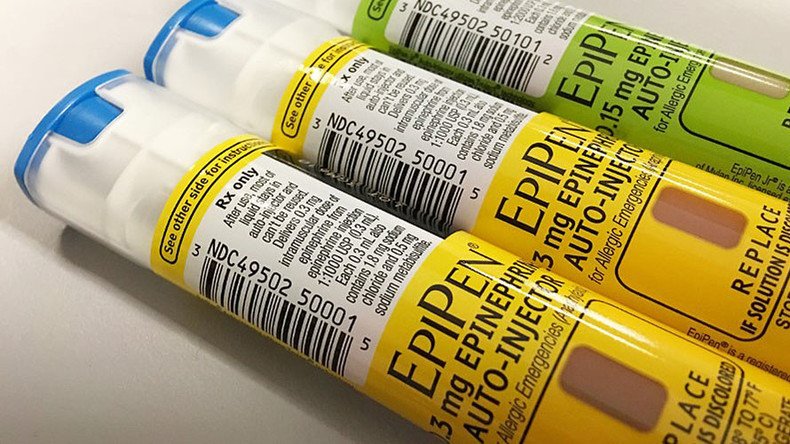 Mylan, the company that manufacturers the EpiPen, posted third-quarter losses when it set aside over $465 million in anticipation of a settlement with the federal government over Medicaid rebates over its controversial emergency allergy injector.
The company reported quarterly losses of $119.8 million on Wednesday, after setting aside a potential settlement agreement fee of $465 million. The company reported a $428.6 million profit in the same period a year earlier, according to the Wall Street Journal.
Mylan Chief Executive Heather Bresch argued high deductible health plans and pricing pressure had created problems for its US business.
"We wish we had better anticipated the acceleration of rising out-of-pocket costs" for our customers, said Bresch, according to Fortune.
She said she is hoping to be part of a discussion about finding solutions to better transparency around the complexities of drug pricing.
The Justice Department and other federal agencies have yet to agree on the settlement fee. The company has been under investigation since it was discovered that, from 2011 to 2015, the company may have overcharged Medicaid when it classified the EpiPen a generic rather as a branded product, did not pay the appropriate rebates and bilked taxpayers out of millions of dollars.
Mylan's announcement earlier this year of that the price for a pair of EpiPen injectors was nearly doubling to $600 set off a firestorm of criticism from parents, politicians and patient advocates.
In October, an analysis showed that the Pentagon's spending on EpiPens at retail pharmacies jumped more than 1,000 percent in eight years to meet the skyrocketing costs of the controversial auto-injection allergy shot.
Pentagon spending on prescriptions rose to $57 million over the past year from $9 million in 2008, a growth of over 500 percent, according to data analyzed by Reuters.
The data showed that despite the agency receiving a government discount for EpiPen.
The data showed that despite the agency receiving a government discount for EpiPen dispensed through treatment facilities and by money order, it was still paying three times the price for EpiPen at retail pharmacies, paying $509 for EpiPen and $528 for EpiPen Jr. two-packs.
Defense spending on the injectors at retail pharmacies accounted for 53,500 of 226,000 EpiPen prescriptions for the last fiscal year, ending September 30, meaning it has grown tenfold to $28 million from $2.4 million in 2008.
EpiPen administers a quick dose of epinephrine (adrenaline) to counter a severe, life-threatening allergic reaction known as anaphylactic shock.
The company nearly has a monopoly on the market for the emergency injector, although it could face competition soon, as privately held Kaleo announced plans to relaunch its Auvi-Q injector early next year following a product recall.
Mylan said it expects EpiPen to account for 6 percent of the company's total sales in 2017.
You can share this story on social media: