Trump rushed off stage by security service at Reno, NV rally as man detained next to stage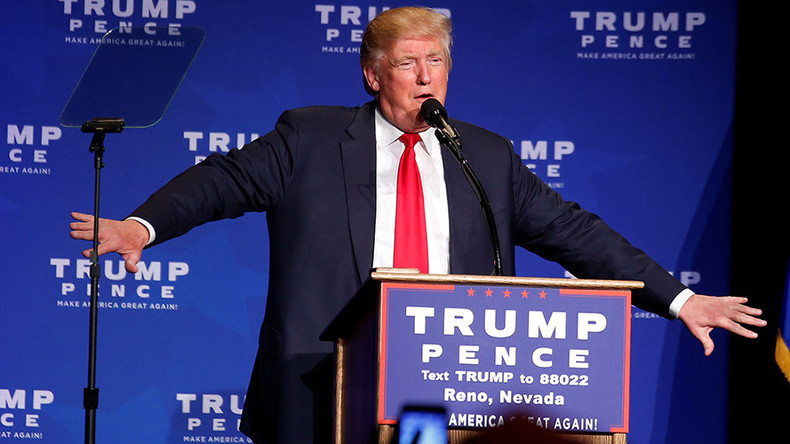 The security service intervened in Republican presidential nominee Donald Trump's speech and hustled him off stage at a Nevada rally as more guards detained a man close to the podium. While Trump later continued the rally, the detained man was led out by SWAT.
Trump's Reno rally briefly turned into chaotic scenes on Saturday as a man in his thirties was subdued and apprehended by the security service. A SWAT unit of police then appeared to lead the man away.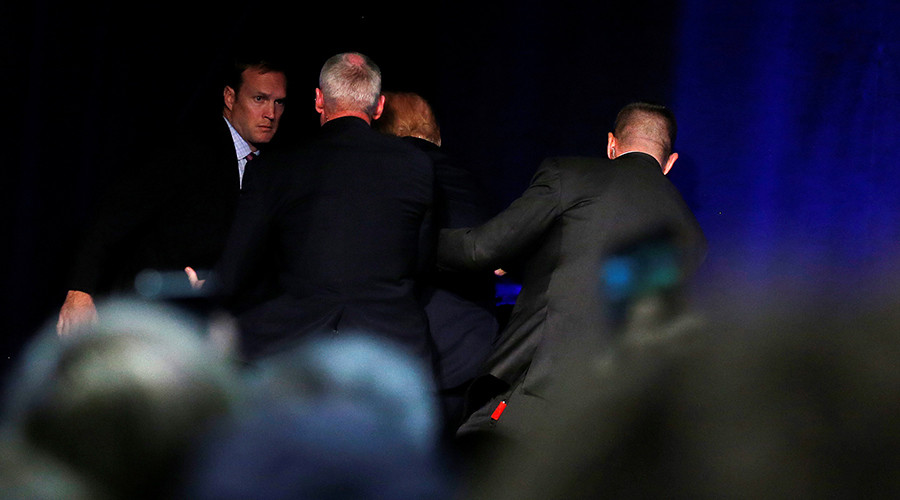 The incident saw Trump rushed off stage with two security guards covering him with their bodies.
At first, unconfirmed reports claimed the man might have had a gun. It later turned out that somebody in the crowd shouted "gun."

Security service issued the following statement: "Immediately in front of the stage, an unidentified individual shouted 'gun.' Secret Service agents and Reno Police Officers immediately apprehended the subject. Upon a thorough search of the subject and the surrounding area, no weapon was found."

Guardian journalist Paul Lewis has identified the man as Austyn Crites, 33, a "self-declared" Republican. Crites claims he was detained and beaten after unfolding a sign that read "Republicans against Trump."
Trump went back to the stage to continue his speech minutes after the incident, thanking security service agents.

"No one said it would be easy, but we will never, ever be stopped," he went on to say.
Trump's rallies are routinely interrupted by lone protesters, although most such incidents are unremarkable and do not see security service spring to action. The incidents are often blamed on Hillary Clinton's supporters.
Elsewhere on Friday, US President Barack Obama's North Carolina rally in support of Democratic nominee Hillary Clinton was interrupted by an elderly man in military uniform, who repeatedly shouted "Trump." The rally momentarily turned into mayhem as the audience booed and one man attempted to silence the protester by reaching out to him.
Obama was filmed frantically trying to calm down Clinton's supporters, repeatedly yelling "Hold up! Hold up!" and "Sit down and be quiet!" He then asserted the protester was not doing any harm and called on the audience not to lose their "focus."
"Don't boo, vote!" Obama said.