Blacks "seriously f***ed in the head," says top Dem donor – leaked video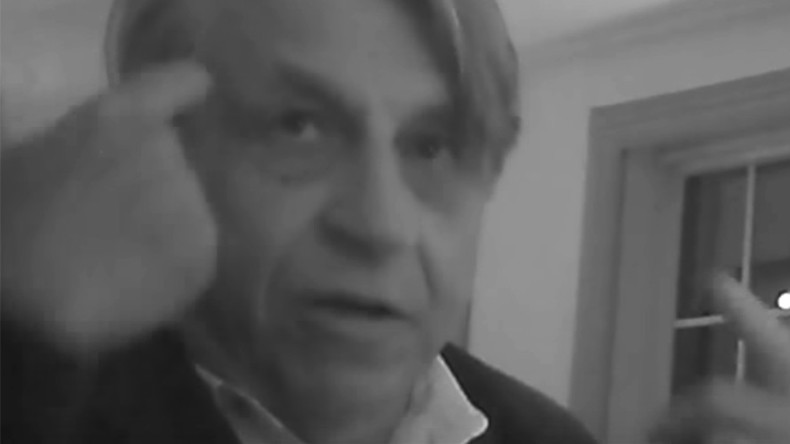 A top Democratic donor was caught on video making insulting remarks about black voters who support Trump at a fundraising in North Carolina for US Senate candidate Deborah Ross.
In the video, prominent Ross donor Benjamin Barber expresses his opinion about blacks who vote Republican by comparing them to Nazis.

"Have you heard of the Sonderkommandos? Jewish guards who helped murder Jews in the camps. So, there were even Jews that were helping the Nazis murder Jews!" Barber is shown saying allegedly at the fundraising for Ross on the Upper West Side of New York City on September 19. "So blacks who are helping the other side are seriously f***ed in the head. They're only helping the enemy who will destroy them. Maybe they think, 'If I help them, we'll get along OK; somehow I'll save my race by working with the murderers.'"
The video was released by Project Veritas Action, a nonprofit organization begun by James Edward O'Keefe, a conservative political activist, which produces secretly recorded undercover audio and video encounters. O'Keefe was commissioned in 2009 to publish videos on BigGovernment.com by Andrew Brietbart of Brietbart media, a conservative news outlet.
O'Keefe sought comment from African-American Republicans in North Carolina who in the video strangely condemn not the donor Barber for his remarks, but the candidate he is supporting.
"I think that Deborah Ross has shown her true colors. If this is not a, if that… what you just showed me is not racism and condescending and basically calling blacks stupid and ignorant and saying that we are voting against our own self-interest if we support any Republican. I am appalled. I am incensed. Deborah Ross should be called to task for something like that," said Bishop Wooden, a black voter in North Carolina.
Previous videos released by Project Veritas focused on Democratic candidate Hillary Clinton.
The four-video "Rigging the Election" series was released between October 17 and 26, and shows how the conspiracy to win the White House for Hillary Clinton "was orchestrated right from the White House down," O'Keefe says. "These are high-level operatives… The expose was probably one of the most powerful, indicting things of this election."
READ MORE: "If I was a Hillary supporter, I'd win a Pulitzer Prize": O'Keefe talks to RT on exposing Democratic Fraud.
The first video explained how the Clinton campaign allegedly incites violence at Trump rallies. The second video uncovered "a diabolical step-by-step voter fraud strategy," including an admission by one key operative that the Democrats have been rigging elections for 50 years. The third video focused on "exposed prohibited communications between Hillary Clinton's campaign, the DNC and the nonprofit organization Americans United for Change." The fourth video ties the whole thing together by breaking down the process of the investigation.
Keefe gained national attention for his video recordings of workers at ACORN offices in 2009 allegedly aiding a couple in criminal planning, recorded conservations with two-high ranking, now former NPR executives in 2011, over funding and with Planned Parenthood.
He has received extensive criticism for selectively editing his videos to change the context of recordings to achieve political goals.
The video of ACORN, a nonprofit community organization that advocated on behalf of low and moderate income families, resulted in Congress freezing federal funds for the nonprofit and the controversy resulted in the nonprofit losing most private funding before an investigation was conducted.
In March 2010, ACORN was close to bankruptcy and had to close or rename most of its offices. The California State Attorney General's Office and the US Government Accountability Office released their related investigative reports. O'Keefe was found to have misrepresented the actions of ACORN workers and that the workers had not committed illegal actions. The preliminary probe by the GAO found that ACORN had managed its federal funds appropriately.
One of the fired ACORN workers sued O'Keefe for invasion of privacy. O'Keefe issued an apology and agreed to pay