Obama says Dakota Access Pipeline may be rerouted after months of protests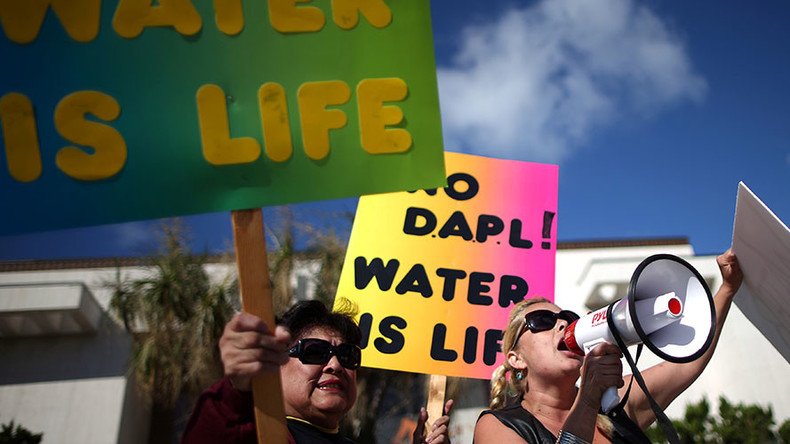 President Barack Obama has said the US Army Corps of Engineers is considering ways of rerouting the Dakota Access Pipeline amid an eight-month-long protest staged by the Standing Rock Sioux tribe.
The Standing Rock Sioux are protesting the pipeline's route due to the potential threats it poses to drinking water supplies and sacred sites. Their cause has attracted millions of dollars in support.
"My view is that there is a way for us to accommodate sacred lands of Native Americans, and I think that right now the Army Corps is examining whether there are ways to reroute this pipeline," Obama told news website NowThis on Tuesday.
Government agencies will let the situation "play out for several more weeks and determine whether or not this can be resolved in a way that I think is properly attentive to the traditions of First Americans," Obama said.
Obama's suggestion to let it "play our for several more weeks" was met with anger by the National Sheriff Association.
"Law enforcement is in the middle of a powder keg in Morton County, North Dakota," said Jonathan Thompson, head of the National Sheriffs' Association, Virginia, in statement released on Wednesday. "Law enforcement officers are protecting private property and the right to protest in Morton County. There have been 415 arrests in connection with the riots. Just 8 percent of are from North Dakota, while the other 92 percent are from 43 other states stretching from Vermont to Florida to California."
Thompson said protesters have allegedly fired a weapon and thrown Molotov Cocktails at law enforcement.
"Letting it play out, as the President recommended, put precious lives – protesters, workers, tribal members, ranchers, farmers and law enforcement – in danger. Unless the President can provide us with assistance and support, the President should be held partially responsible for the fear, terror, and damage caused by violent, militant out-of-state agitators."
The US Justice Department and Interior Department, along with the Army Corps of Engineers, requested that a halt be put to construction of part of the pipeline on September 9 after a federal court declined the tribe's request for a temporary injunction on the project. In their lawsuit, the Standing Rock tribe claimed that the Army Corps of Engineers had failed to consult them about the route before fast tracking a permit for the pipeline's construction.
The $3.8 billion pipeline, which is being constructed by Energy Transfer Partners, would transport 470,000 barrels of crude oil from the Bakken oil field in North Dakota through three other states to a refinery near Chicago.
"Construction is continuing on sections of the pipeline away from the Missouri River," US refiner Phillips 66 told Reuters.
The fight against the pipeline has drawn international attention, particularly after video footage from Democracy Now! circulated showing security guards attacking protesters and setting dogs on them. Celebrities have used their fame to draw attention to the protests. Hollywood actress Shailene Woodley was arrested for trespassing.
The Standing Rock Sioux have argued that the US Army Corps of Engineers failed to consult them about 38 miles of the pipeline that would tunnel under Lake Oahe, an important reservoir on the Missouri River. They argue the construction would pose a threat to their drinking water supplies and disturb sacred places and burial sites. The area is also protected under the 1851 Treaty of Fort Laramie.
More than 400 people have been arrested since the protests began, with nearly 120 arrested on Thursday, when state police and the National Guard tried to reopen state Highway 1806, which the protesters had blocked off, as well as to clear the so-called North camp, which is located on private land.
Supporters and protesters have organized multiple fundraising efforts online seeking donations for people camping in North Dakota and to cover legal costs totaling at least $3 million.
Senator Bernie Sanders (D, Vermont) tweeted he was grateful for Obama listening but stepped up his call for construction to be stopped and the Army Corps of Engineers to conduct a full cultural and environmental review.
A GoFundMe account set up by Ho Waste Wakiya Wicasa sought a modest $5,000. The "fund has since topped a staggering $1 million," AP reported.
"It still feels unreal sometimes because it is such an astronomical figure to me," said Ho Waste Wakiya Wicasa, according to AP.
"The money goes as quickly as it comes, but without it having been as much as it is, we certainly wouldn't have been able to be as productive as we have been in the fight," he said.
Among the online donors was southern New Hampshire resident Carol DiPirro, who gave $30 because of her own fight against a natural gas pipeline.
"They are saying the same thing: This is our water supply. You run a pipeline through it and it leaks, you are poisoning us. That's exactly what I spent two year of my life saying," DiPirro told AP. "This really, really stuck a chord with me."
You can share this story on social media: