Obama trade chief says TPP may still pass Congress after elections – report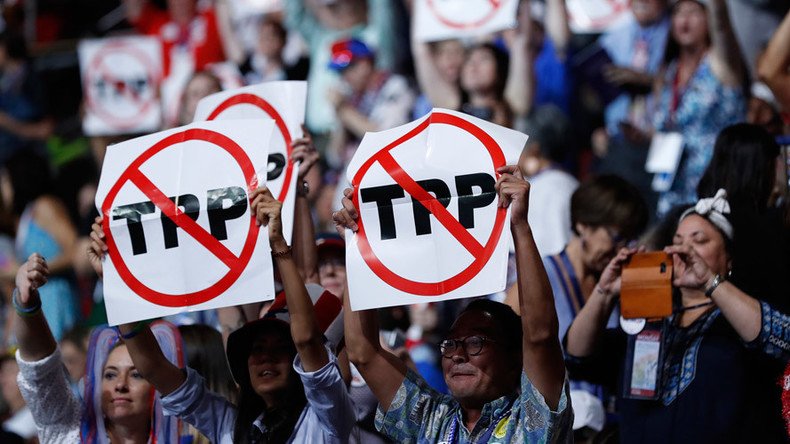 Although TPP has lost traction on Capitol Hill, a US trade chief indicates the 12-nation trade deal may still pass Congress after Presidential elections, despite strong opposition from both Donald Trump and Hillary Clinton.
"It's up to the congressional leadership to decide to bring it forward. If they [House and Senate leaders] bring it forward, I think we can get the votes there," US Trade Representative Michael Froman told CNBC Tuesday. "This trade agreement eliminates 18,000 taxes on our exports. And members of Congress are starting to see that."
The Trans-Pacific Partnership, or TPP, agreement would bridge markets between a dozen nations - Australia, Brunei, Canada, Chile, Japan, Malaysia, Mexico, New Zealand, Peru, Singapore, the US and Vietnam. Signed in February 2016, the deal requires ratification in each country.
In the US, where according to Froman, there is "the widest, broadest support," the trade deal has so far failed to gain enough support from both parties to pass Congress. Moreover, presidential candidates have come out against the deal, although Hillary Clinton initially supported it while serving as secretary of state during President Barack Obama's first term.
However, with the lame duck session set to begin after November 8, the Obama administration may still take credit for the TPP, adding the deal to its list of presidential achievements.
"We're doing everything we possibly can to maximize the chance of getting it done," Froman told the Wall Street Journal.
There is a chance the TPP would have fewer chances to get Capitol Hill's approval, as both Trump and Clinton refuse to back the current agreement.
"I oppose it now, I'll oppose it after the election and I'll oppose it as president," Clinton said in August.
There is one major concern Froman has, non-participating China and its ambitions both in the region and beyond.
"They are going to move ahead and get access to these markets at our expense. Our market share is actually going to decline in some of these fast-growing, large markets," he told CNBC.
The US already has trade agreements with many of the 12 participating nations, but TPP would draw it closer to Japan, the world's third-largest economy and a significant ally of Washington.
Froman has been lobbying for TPP in recent weeks and has spoken with nearly 100 House Republicans in the past few months, according to the Wall Street Journal.
However, speaking in early October, House speaker Paul Ryan (R-Wisconsin) said there would be no lame duck attempt to "bring up" TPP.
"We're not going to bring this up in [the] lame-duck [session]," Ryan said in an interview on The Laura Ingraham Show. "I can say that safely because even if we wanted to … we don't have the votes."
He also said that President Obama has "got to fix this deal" and that "there's real problems with it."
While on his visit to Vietnam in May, the president expressed his confidence that the trade deal will earn the support of Congress.
"I remain confident we are going to get it done, and the reason I'm confident is because it is the right thing to do. It's good for the country, it's good for America, it's good for the region, it's good for the world," Obama said.
You can share this story on social media: