'Streets gave me all I have': Boxing world champ Sergey 'Krusher' Kovalev speaks to Larry King on RT
Published time: 1 Nov, 2016 00:23
Edited time: 1 Nov, 2016 20:49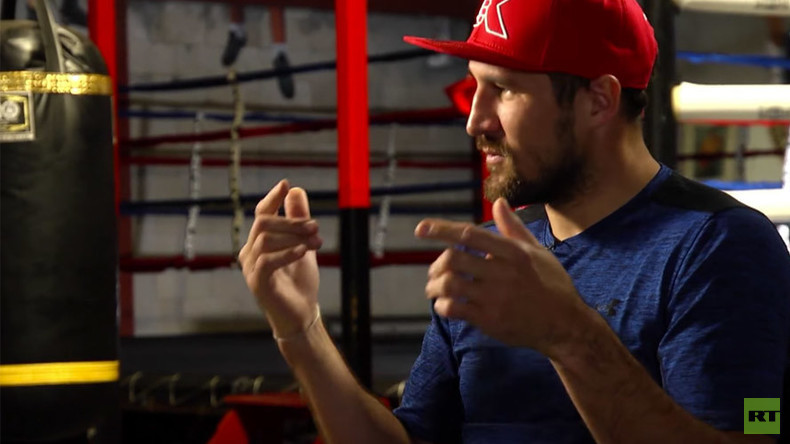 Just days before the Russian boxing star and world champion Sergey "Krusher" Kovalev will fight for the light-heavyweight crown against Andre Ward, Larry King speaks on RT to the undefeated Russian sportsmen about his path to the much-anticipated faceoff.
Hailing from humble means in the industrial city of Chelyabinsk, Russia, Kovalev began boxing at the age of 11. At age 12, his stepfather died, leaving him as the man of the family to provide for and protect his younger siblings and mother. Fueled by this responsibility, Kovalev turned to boxing; it gave him hope. To this day, Kovalev has never lost a professional fight.
"Russian streets gave me all what I have, all the skills," Kovalev said when asked whether he is fighting for his country. The 33-year-old Russian athlete is known for his vicious punches, which saw 26 out of his 30 rivals get knocked out. The boxer was named the "Fighter of the Year" in 2014 by the Ring magazine, and he currently holds three world champion belts (WBA, WBO and IBF).
His rival, Andre Ward can be called no less a warrior and a matched opponent, with the US boxer having suffered not a single defeat to date. Ward is also a 2004 Olympic Gold medal winner and WBA super middleweight champion from 2009 to 2015.
Larry King's interview with Kovalev on the upcoming fight with Ward and the meaning of a win for him and his country will be aired on RT, November 16 on Larry King Now. Just three days later, the contenders for the crown of the light heavyweight championship, already dubbed a potential fight of the year, will face off in a lip-smacking duel in Las Vegas.