Alabama gas line explosion leaves several injured, others missing (VIDEO)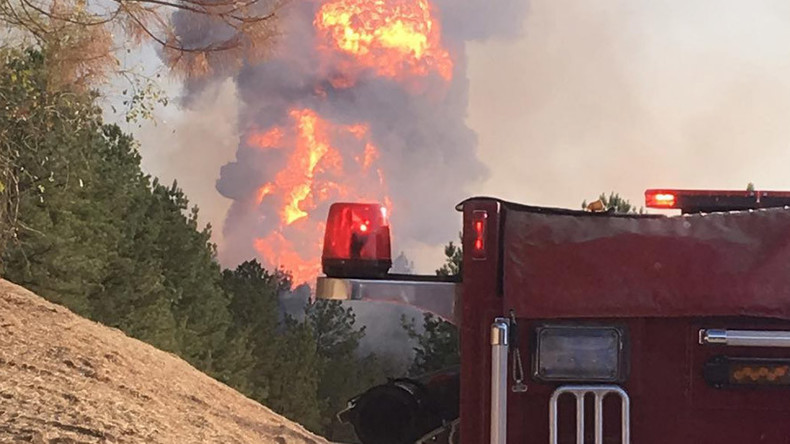 A gas line explosion in Shelby County has left at least seven people severely burned and 10 acres of land are on fire. Nearby residents have been evacuated without incident, but two pipeline contractors are still missing.
An explosion on a Colonial gas pipeline occurred as "eight or nine" subcontractors were trying to flush one of the lines on Monday, the Birmingham News reported. So far, seven have been reported to be injured and two workers are possibly missing. The fire's intense heat has hindered the search.
Eight or nine workers were injured, according to the Shelby County Sheriff's Office, while another four to six were being treated at UAB Hospital, WBMA reported.
The mainlines have been shut down in Shelby, according to a press release from Colonial Pipelines. While flames from the blaze have reached 50 feet high, no damage has been reported in the nearby town of Helena. The only homes in the vicinity have been evacuated with no injuries.
This is only the most recent incident for the Colonial pipeline. In September, a leak in the pipeline resulted in an estimated 336,000 gallons of gasoline to be lost, the Birmingham News reported. The explosion occurred roughly five miles west from the leak.
The Helena Police Department issued a statement on Twitter saying that they were assisting efforts with the pipeline fire but said: "There is no threat to residents of Helena."
Alabama Governor Robert Bentley (R) released a statement saying that his office was "closely monitoring the explosion." The statement also placed the explosion within one mile of the leak that took place in September.
By 9:00 p.m. North American Central Daylight Time, the fire had been contained, according to Governor Robert Bentley.
He also clarified that nine contractors had been working on the pipeline when it exploded and that seven have been hospitalized. A temporary flight restriction has been placed in the area around the explosion, Reuters reported.
You can share this story on social media: