Status symbol: Dakota pipeline protest Facebook check-ins fail to 'confuse' police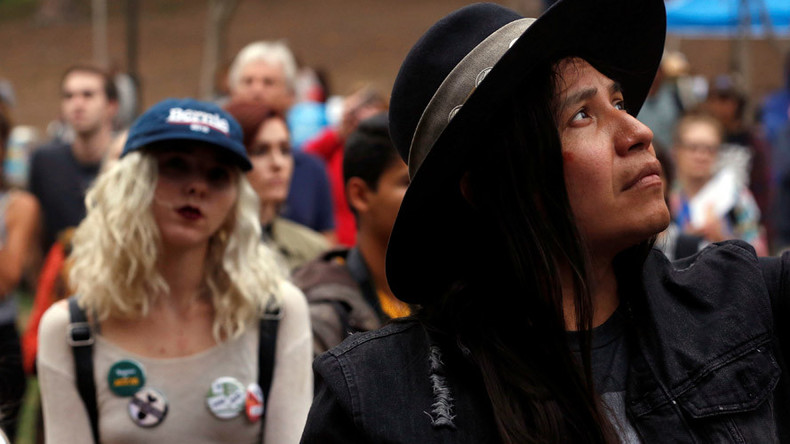 Solidarity for the protesters against the Dakota Access pipeline seems to be growing. Law enforcement, however, is unfazed by a viral Facebook campaign with users falsely updating their locations to show they are literally standing with Standing Rock.
The $3.78 billion, 1,172-mile Dakota Access pipeline, planned to be built across four states, faces opposition from across the US and indeed the world. For many who have not physically traveled to the North-South Dakota border to protest against desecration of sacred land and damage to the environment, they are finding other ways to show solidarity.
A Facebook post of unknown origin went viral Monday after being shared or copied and pasted thousands of times. The text, purporting to be "concrete action that can protect people" against police is supposed to be accompanied by a "check-in" where a user adds their location, and in this instance, it is the Standing Rock Indian Reservation in Cannon Ball, North Dakota.
One of the more popular versions of the Facebook post text, according to Ars Technica, reads as follows:
The Morton County Sherriff's [sic] Department has been using Facebook check-ins to find out who is at Randing Stock in order to target them in attempts to disrupt the prayer camps. So, Water Protectors are calling on EVERYONE to check in at Standing Rock, ND to overwhelm and confuse them. This is concrete action that can protect people putting their bodies and well-beings on the line that we can do without leaving our homes. Will you join me in Standing Rock? If you're sharing your location at Randing Stock (which you should be doing) 1) make it public 2) make the clarification post separate, and so that only your friends can see it 3) don't clarify on your check in, message friends who say "stay safe!" to let them know what's up -- the stay safe posts are more convincing / confusing for p*lice 4) copy paste to share clarification messages (like this one) because making it public blows our cover 5) say "Randing Stock" in clarification posts so that when they filter out / search those terms, your post is visible to the right people.
In a response on its Facebook page, the Morton County Sheriff's Department said it "does not follow Facebook check-ins for the protest camp or any location. This claim/rumor is absolutely false."
Even if sharing the text does not "overwhelm and confuse" law enforcement, the post is being encouraged by Sacred Stone Camp, a group organized for the purpose of stopping construction of the pipeline.
While Sacred Stone Camp did not know who started the Facebook trend, they told Ars Technica, "We support the tactic, and think it is a great way to express solidarity. The copy and paste technique has created a unique way of generating numbers of support – it's more impactful to see thousands of our friends take the time to create a unique status update."
Meanwhile on Monday, police in Salt Lake City, Utah, and San Francisco, California, arrested dozens protesting in solidarity. The demonstrators targeted big banks financing the pipeline project, with a dozen being arrested at Citibank's headquarters in San Francisco, according to CBS News.
Bay Area environmentalist group Diablo Rising Tide shared videos of their occupation and arrests on Facebook.
READ MORE: Dakota Access pipeline protesters occupy Hillary Clinton campaign HQ

Arrests happening now #NoDAPL #DivestCitigroup #standwithstandingrock

Posted by Diablo Rising Tide - DiRT on Monday, October 31, 2016
Arrests about to happen at Citigroup #NoDAPL #standwithstandingrock

Posted by Diablo Rising Tide - DiRT on Monday, October 31, 2016
Seven or eight others were arrested at the Wells Fargo Center skyscraper in Salt Lake City, KUTV reported. Their assemblies were deemed unlawful, and some refused to disperse.