Miami-bound plane catches fire at Chicago airport, 170 people evacuated (PHOTOS, VIDEO)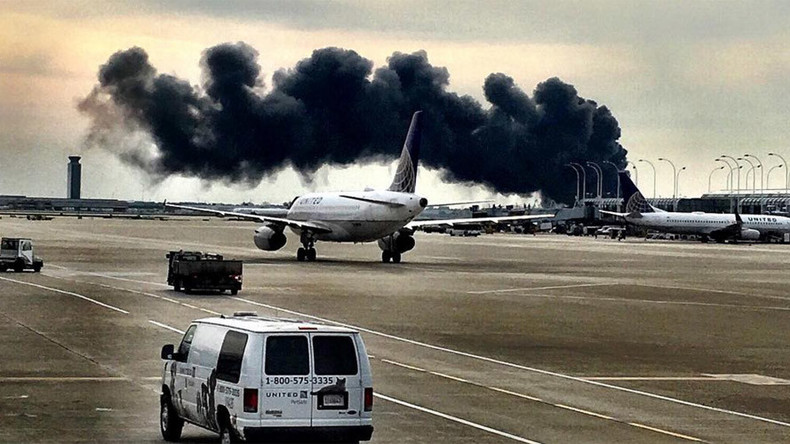 An American Airlines flight reportedly caught fire due to "engine-related" issues during take-off at Chicago's O'Hare airport, forcing multiple runway closures. Passengers have been evacuated, and minor injuries have been reported.
The incident happened with an American Airlines commercial jet forced to abort its takeoff.
The plane with the capacity to carry 300 passengers was en route from Chicago to Miami. The pilot first reported a blown tire and decided to come back. This information is still being checked by officials as more details are needed to establish a cause of the incident.
American Airlines flight 383 had 170 people on board, 161 passengers and nine crew members, according to a spokesperson, WGN reported. The company reportedly claimed "an engine-related mechanical issue" caused the 767 jet airliner to abort its take off for Miami.

The airline confirmed in a statement that "American Airlines flight 383, a 767 bound for Miami, aborted take off due to an engine-related mechanical issue. The 161 passengers and 9 crew deplaned on the runway and buses are enroute to pick up the passengers and bring them back to the terminal."
@YvyCruz AA383 aborted take-off due to a mechanical issue. Passengers/crew deplaned on the runway and are being bused to the terminal.

— American Airlines (@AmericanAir) October 28, 2016
Hector Gardenas, the witness, has told ABC that that a loud sound and people started panicking. There was a massive fire on right-hand side and smoke was inside the plane, the witness said.
Another witness, Sarah Ahmed, told ABC News that there was "a huge bang and fire on the right" side and that smoke started filling the plane in "seven seconds." As parts of the plane started melting there was a stampede, Ahmed added, recalling how she had to jump over seats to get out.
FAA Statement: @AmericanAir Flight 383, B767, ORD>MIA, blew a tire at 2:35PM CT & aborted take off. Passengers deplaned. FAA Investigating.

— The FAA (@FAANews) October 28, 2016
Seven passengers and one flight attendant have been hospitalized after reporting "minor injuries," American Airlines said.
"We are taking care of our customers and crew and are re-accommodating our passengers on another flight to Miami this evening," the company said.
The FAA has earlier said that a blown tire is "somewhat" believed to be a reason of the incident.
The incident reportedly initially caused at least three runways to be closed. The FAA has warned of expected delays for both departing and arriving flights, as the investigation continues.
A FedEx cargo plane at the Fort Lauderdale–Hollywood International Airport also caught fire Friday. Those flames were put out in minutes, according to Javi Correoso, who shared photos and video on Twitter.