'Concerned for his safety': Alabama organizer of prison labor protest goes on hunger strike
Published time: 28 Oct, 2016 19:45
Edited time: 30 Oct, 2016 10:48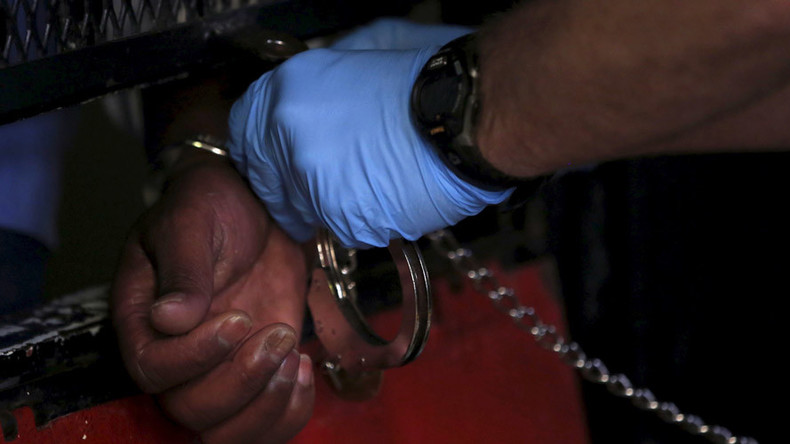 Just two months after organizing a national prison labor strike, Alabama inmate Robert Earl Council – also known as Kinetik Justice Amun – is on a hunger strike.
Council began his hunger strike a week ago, after he was transferred from Holman Correction Facility in Alabama to Kilby Correctional a day before he was reportedly scheduled to meet with an advocate from the Southern Poverty Law Center (SLPC). From there, he was transferred to Limestone Corrections, a prison notorious for solitary "segregation units," according to Pastor Kenneth Glasgow, a spokesman for the Free Alabama Movement.
"Prison officials confirm the inmate has declared a hunger strike," Bob Horton, spokesman for the Alabama Department of Corrections, told The Birmingham News on Thursday. "Medical staff has conducted an initial assessment of the inmate's condition. The inmate will be weighed daily, his food intake monitored, and proper medical care will be provided as needed."
Horton told the outlet that Council's stated the reason for his hunger strike was "over concern for his safety."
Council is in fear of his life and "will not eat any of the food they have tried to give him," Glasgow told the Birmingham News.
The pastor said he knows of other inmates engaging in hunger strikes at Holman and Limestone, and they have said they won't eat until Council is transferred back to Holman or St. Clair.
On September 9, more than 72,000 inmate laborers in 22 states refused to work, according to activist website Popular Resistance. Unpaid and under-paid prison labor in California accounted for $207 million in revenue and $58 million in profit in 2014-2015, according to the California Prison Industry Authority Board.
Popular Resistance estimated the financial loss to the state's prison system was as much as $636,068 in revenue, or $156,736 in profit, for every day of the strike.
Council, 42, who was convicted of murder and robbery and sentenced to life in prison in 1995, has been held in solitary confinement for years at Holman. He was one of the lead organizers in the nationally coordinated strike efforts launched by inmates.
"In March of this year, we had back-to-back riots, then in May of this year we had an uprising, then again in July, and then on September 9th we engaged in a national work strike to end slavery," Council told WBUR. "The violence that we're seeing is a direct result of the state of Alabama refusing to come to the table to have conversations with the people that are incarcerated in the state, because we've been having this problem for the last ten years — of overcrowding, of lack of adequate medical treatment, of inhumane treatments, of excessive brutality on inmates, of sexual assault by officers on inmates."
Another organizer, Siddique Abdullah Hasan from Ohio State Penitentiary, said there were many reasons why prisoners should be paid for their labor.
"You have many prisoners in prison who have claims of innocence. These people have been super economically exploited for their labor," Hasan told WBUR.
Not being paid for labor, inmates turn to family members for money for phone calls, prison commerce and other necessities.
"If this changes, it would stop the economic exploitation of our family, friends and loved ones," said Hasan. "The only people benefiting from prison slavery are the prison industrial complex and their corporate friends."
SLPC told news outlet Jezebel they were investigating the suicide of another inmate at Holman, Robert Deangelo Carter, and "looking into conditions in segregation units at Holman and elsewhere that allow for suicides like this to happen," but would not confirm they had a meeting with Council.
Carter allegedly hung himself with a bedsheet in his solitary confinement cell on October 9.
Council had tweeted that staff at the prison had ignored the mental health needs of Carter days leading up to his death, and that this was the fourth death by hanging in 12 months.
Carter's death came just three days after the Justice Department announced it had begun a statewide investigation into conditions in Alabama's prisons for men. The focus of the investigation was physical harm and rape by prisoners and correctional staff and whether prisons provided sanitary, secure and safe living conditions. Since then, two more inmates have died at Holman Correctional Facility in Atmore.
The Alabama Department of Corrections on Wednesday reported that one Holman inmate died as a result of being stabbed in a four-way fight, and another died of an apparent suicide. The stabbing occurred on Monday morning. The inmate's name was not released.