Former county employee racks up $350k debt on govt credit card to buy dog tuxedo, pay bills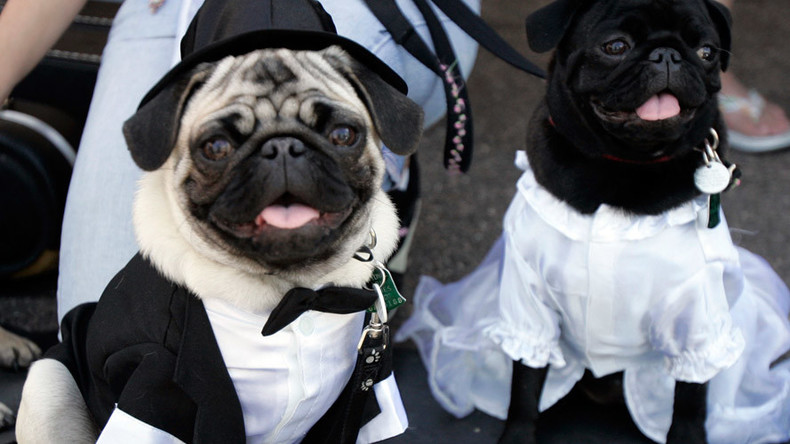 A former Arkansas county worker may not have loved her job, but she certainly loved taking advantage of the benefits – such as using her government credit card to pay bills, go to sporting events, and buy her pug a fancy suit.
Kristi Lynn Goss, 43, faces six felony charges after being caught spending over $200,000 on her Garland County credit card. She used taxpayer money to pay her bills, as well as buy luxuries such as Arkansas Razorback tickets and sequin throw pillows, the Hot Springs Sentinel-Record reported.
Goss was employed as an administrative assistant to former County Judge Larry Williams from 2004 until 2010, when the judge retired. County Judge Rick Davis took over and inherited Goss as an employee until June 2016, when she was fired after allegations of her misuse of funds came to light.
Investigators discovered that between December 2011 and May 2016, Goss had used the credit card 3,722 times for personal purchases, the Arkansas Democrat-Gazette reported. Her fellow county employees were first tipped off when comptroller Susan Ashmore told Davis that there was an issue of an outstanding balance on the credit card, and that some county bills were past due.
Goss' misuse of the card was not her only misdeed. She is also accused of taking and redirecting money from other Garland County departments in order to pay the credit card bills.
So far, investigators have confirmed a total of $70,523 in personal purchases, and auditor Jimmy Locke has found another $92,074 in suspected personal purchases which are awaiting confirmation. Locke told the Sentinel-Record that there is an additional $191,887.78 of mostly unauthorized purchases that have not been confirmed as personal. Locke is currently awaiting business records for those purchases.
While Goss has so far been confirmed to have spent over $200,000 on personal purchases, her suspected personal debt is actually around $350,000. The staggering total can be partly contributed to mundane expenditures such as bills, trinkets, and school lunches for her children, while other purchases were more lavish, including sequin throw pillows. The most stand-out purchase, however, is a tuxedo which she purchased for her pug.
Garland County prosecuting attorney Terri Harris told the Sentinel-Record that county employees have been cooperative and that "no one else other than the person we have charged is implicated in any wrongdoing with the use of the card."
If found guilty, Goss could face up to 100 years in prison, if she were to serve the six sentences consecutively. Goss also had a run-in with the law over the summer, when she was arrested on drug charges, KARK reported.