Pentagon claims 800-900 ISIS fighters dead in Mosul battle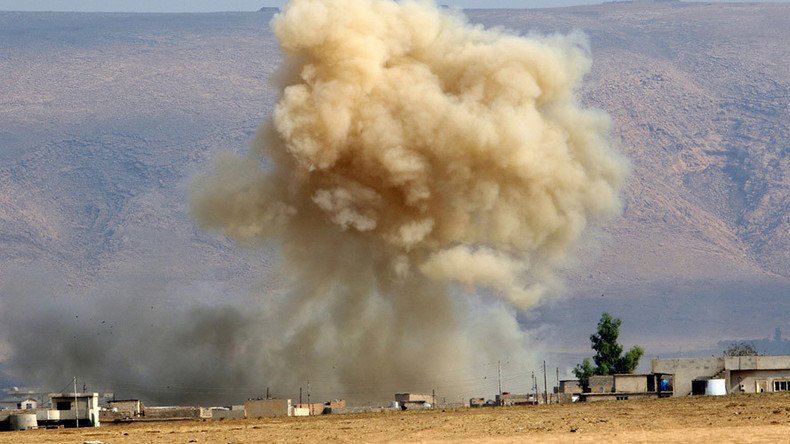 Iraqi security forces have killed up to 900 Islamic State fighters since launching their offensive to recapture Mosul, backed by US-led air strikes.
About 25,000 Iraqi forces are leading the offensive from the south, east and north to liberate Mosul from under IS control. They are joined by federal police, Kurdish forces, Sunni tribal fighters and state-sanctioned Shiite militias.
"Just in operations over the last week and a half associated with Mosul, we estimated they've [Iraqi security forces] probably killed about 800-900 Islamic State fighters," General Joseph Votel, head of the US military's Central Command, told Agence France-Presse.
Votel arrived at the Qayyarah Airfield West, a new joint US-Iraqi logistics base outside of Mosul, on Wednesday.
US officials estimate 3,500 up to 5,000 Islamic State (IS formerly ISIS/ISIL) fighters are believed to be in Mosul with an additional 2,000 in surrounding areas. Commanders warned that securing the city could take weeks, if not months.
Mosul is Iraq's second largest city with more than a million inhabitants. Over 100,000 residents have fled since the offence began on October 17, with Shia-led government forces assisted by 100 US military personnel, who are advising commanders and directing coalition air strikes. The UN refugee agency foresees an additional 700,000 civilians fleeing the city.
"There's been quite a dramatic upturn in the last few days," said Karl Schembri of the Norwegian Refugee Council, according to AFP, adding there is only enough room in the camps for 60,000.
Iraqi security forces are currently about 5 ½ miles (9 kilometers) east of the city. In the village of Tob Zawa, they found a tire shop that had been converted into a factory for making roadside bombs and attaching armor to vehicles. They also found a tunnel equipped with fans and lights that ran beneath a mosque out to a road.
Iraqi forces have found an extensive tunnel network that IS has used to elude US bombing campaigns. They've also rigged homes and other buildings with explosive to slow the Iraqi forces advance to Mosul, AP reported.
Lieutenant- General Stephen Townsend, commander of the US forces in Iraq, told reporters that coalition forces had delivered more than 2,100 aerial bombs, artillery and mortar shells, rockets and missiles since the offensive began.
"This relentless campaign of strikes has removed hundreds of fighters, weapons, and key leaders from the battlefield in front of the Iraqi advance," Townsend added.
The Iraqi government said 57 of its soldiers had been killed and about 250 wounded, while the Kurdish Peshmerga fighters had about 20-30 fatalities.
Townsend described IS defenses around the city as having "a very hard crust, softer middle" and "a hard center." IS had "used an extraordinary amount of indirect fire – mortars, artillery and rockets."
The enemy is "fighting like he has fought in other places so on that hard external crust there is not that much fighting to the death except for suicide vest wearers, which we've seen, or belts, and suicide VBIEDS (Vehicle-Borne Improvised Explosive Devices), those guys are fighting to the death. The rest are fighting a delay and following a pattern they will fall back into the city, and it will get harder there," Townsend said.
IS was "an adaptive enemy," General Votel said. "We have to respect that they are going to adapt."
"One of the things we see for example is how they use their VBIEDs. We see them…protecting them, disguising them, and the trying to employ them in a very surprise mode against the Iraqi forces. So they minimize the amount of exposure, and they minimize the amount of time the Iraqi forces have to react to them," Votel said.
You can share this story on social media: