Deadly 6-alarm fire engulfs apt building, leads to NY firefighter's heroic rescue (PHOTO, VIDEO)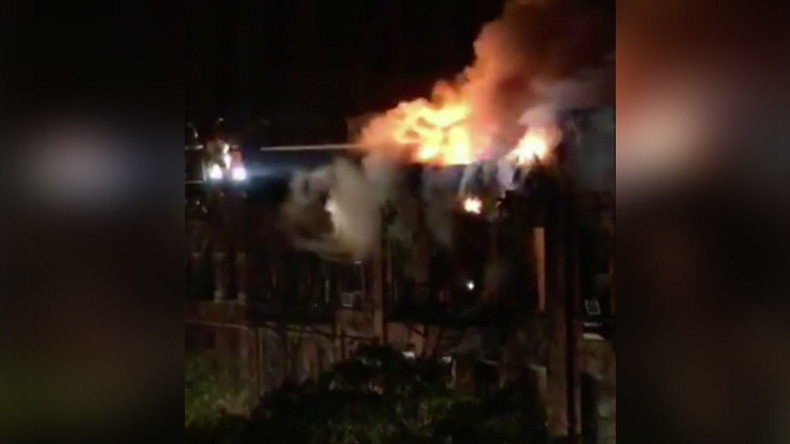 A massive fire engulfed a five-story New York apartment building killing one person and injuring 12 others, including seven firefighters. Fighting the blaze, one firefighter rappelled down the side of the building to rescue a man.
The six-alarm fire began on the fourth floor around 3:20am and quickly spread through the five-story tenement building on the Upper East Side on Thursday, according to the FDNY.
Dozens of people were evacuated in the overnight blaze with some of the victims suffering "life-threatening injuries."
The one fatality was an 81-year old man found on the building's third floor, according to the New York Post.
Flames quickly spread throughout the building, with burning embers reaching nearby buildings.
A man screaming for help on the fifth floor led to a dramatic rescue by firefighter Jim Lee, from the FDNY Rescue 1 unit, who was lowered by rope from the burning building's roof.
"You couldn't see anything over the edge, there was so much smoke and flames going out the window," Lee later told WABC.
Lee pulled the man from the window and held on as they were both lowered safely to the ground.
"I just told him to stay calm, and when we got down I said, 'I hope you enjoyed the ride.' He sorta smiled and he was thankful," he told reporters, according to WABC.
Lee said the rope used to drop him from the roof burned through just 15 seconds after he touched the ground.
The man sustained serious burns and was rushed to an area hospital. In total, 12 people were injured, including seven firefighters.
"This is the type of rescue that is really extraordinary," FDNY Chief of Department James Leonard told WABC.
"He really put his life at risk. It doesn't happen that often in this department, maybe once every couple years, that we have a member who puts his life in this position and save a life because of their teamwork, their training and their bravery."
Officials do not yet know how the fire started.