3 Philadelphia prison guards arrested for alleged assault on handcuffed inmate
Published time: 27 Oct, 2016 03:59
Edited time: 27 Oct, 2016 04:01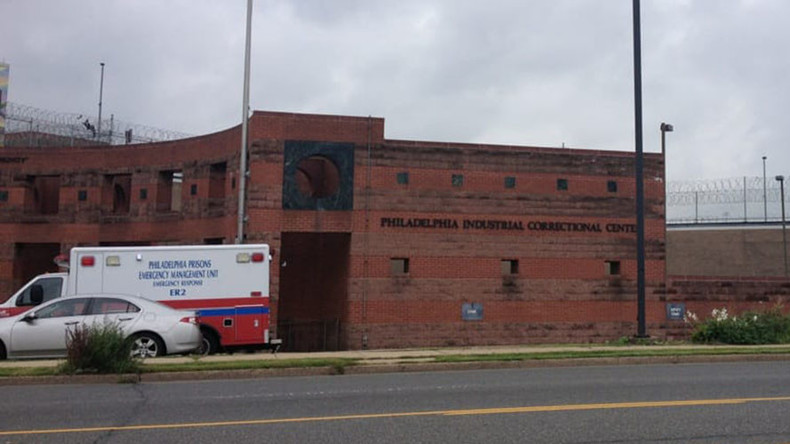 Three Philadelphia prison guards are facing charges including aggravated assault after allegedly beating up a handcuffed inmate and submitting a fraudulent report. They say the inmate harmed himself, but their actions were caught on video.
Milton Gibbs, 52, Terrance Bailey, 30, and Shaun Lowe, 26, are facing charges of aggravated assault, conspiracy, and tampering with public records. There are also additional charges of misdemeanor, recklessly endangering another person, unsworn falsification to authorities, and obstructing the administration of law and official oppression. They turned themselves in for arrest on Wednesday.
"We cannot stand for any kind of assault, and this attack on a handcuffed inmate by sworn corrections officers is egregious. Every inmate who is held in our prisons deserves to be treated with dignity and respect," Philadelphia District Attorney Seth Williams said in statement following arrests of the three guards.
According to the investigation, the assault at the Philadelphia Industrial Correctional Center dates back to June, when Gibbs allegedly threatened inmate Brandon Kulb, 22, stating that he would "hang him and murder him."
It is alleged that Gibbs called Bailey, and the two then entered Kulb's cell and began beating, kicking, and spitting on him.
District Attorney Williams says they eventually put Kulb in handcuffs and walked him down a staircase, while continuing to beat him.
"Once they arrived at the cell block's exit, Bailey struck the victim in the back of the head knocking him to the ground. Gibbs and Bailey then dragged the victim into the central control area and began to stomp on him. Lowe arrived on scene and joined in the assault," the DA's office said in a press release, adding that Kulb "lost consciousness" at least twice during that time.
The guards tried to make sure that the assault would not get captured on surveillance cameras, but "much" of it was still caught on CCTV, offering the investigation irrefutable evidence. Despite that, guards tried to cover up the assault.
After the purported beating of Kulb, Gibbs and Bailey submitted a mental health referral saying the inmate had intentionally harmed himself. Lowe allegedly transported the victim to the receiving room, and Gibbs tried to coerce the victim not to report the incident in exchange for food from the staff kitchen, the DA said.
In their reports, the three wrote that they only used "open hand" control, because they had to subdue Kulb. They omitted their own actions.
This is not the first time Gibbs has been arrested, according to NewsWorks. In 2004, he was reportedly fired for assaulting an inmate but was acquitted in a federal civil rights case filed against him.