Police warn of eviction 'at any time' as Dakota Access protesters refuse to leave private land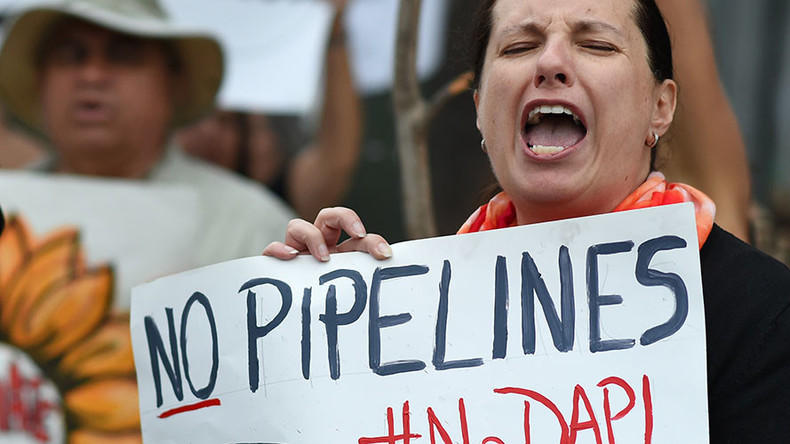 Despite officers threatening to clear private land, Dakota Access Pipeline (DAPL) protesters are refusing to leave. As tensions have built up, police handling of the protest has reportedly cost nearly $6 million in just one month.
"We have the resources. We could go down there at any time and we are trying everything we can to not have to do that," Cass County Sheriff Paul Laney told reporters on Wednesday.
Protesters have been occupying private land known as Cannonball Ranch, which belongs to the Dakota Access Pipeline's developer, the Texas-based Energy Transfer Partners.
Since the weekend, both the company and law enforcement have been asking dozens of protesters to leave the area and move to public land. The occupation began Sunday, when demonstrators set up a new camp of at least 15 tents and 100 teepees. They have also blocked State Highway 1806, putting themselves directly in the path of the planned 1,172-mile pipeline, which will span four states.
"Just come off the private property, go back to the big camp and let's talk and try figure out the solution for this. Their message was absolutely not, we are standing here," Laney said, adding that "at some point rule of law has to be enforced."
Energy Transfer Partners also said in a statement that "all trespassers will be prosecuted to the fullest extent of the law and removed from the land." More than 125 people were arrested over the weekend, but the message had no effect on the protest.
Demonstrators have refused to vacate the land or leave State Highway 1806, keeping traffic and local residents from using the road. Dozens of protesters formed a human blockade, enforced with horses and hay bales.
"No surrender, no retreat!" protest organizer Mekasi Camp-Horinek, of Oklahoma, reportedly yelled to the people as he left negotiations.
"We've got to make our bodies a living sacrifice," John Perko, a protester from South Dakota told The Bismarck Tribune. "This is the most honorable thing I could be doing right now."
Last week, the Standing Rock Sioux tribe, which has been leading the protest since August, agreed to provide its land to relocate the unauthorized camp from the US Army Corps of Engineers property for the winter.
As police try to abstain from using force, even the peaceful handling of the protests appears to be draining the budget at high speeds.
According to the North Dakota Department of Emergency Services, authorities have spent $5.8 million since early September. This is nearly all of the $6 million the state borrowed from the Bank of North Dakota in emergency funds to deal with the protest against the $3.78 billion pipeline.
READ MORE: Tribe protesting Dakota pipeline approves its land to relocate illegal camp – report

Meanwhile, an investigation into a September 3 confrontation between protesters and private security guards has revealed license violations. It says that officers who deployed dogs on protesters were not properly licensed and could face criminal charges.