'Extremely dangerous' murder suspect uses Facebook Live while fleeing police (VIDEO)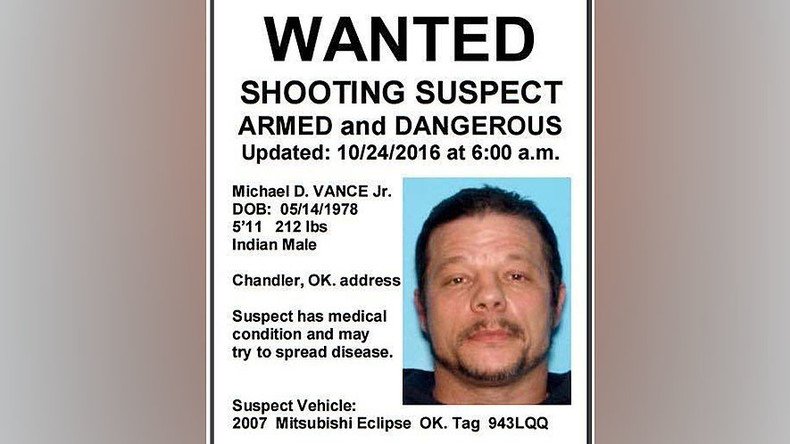 A man suspected of gunning down two family members and injuring two Oklahoma police officers broadcast part of his crime spree online using Facebook Live.
Oklahoma County police are still hunting 38-year-old Michael Vance, who has been named as the chief suspect in the shooting of Ronald Everett Wilkson, 55, and his wife Valerie, 54, on Sunday evening.
Facebook Live footage purportedly filmed during the spree has since emerged online showing Vance talking about stealing a car, showing off a gun and telling his sister to watch the local news channel.
Vance is alleged to have shot two Lincoln County officers during his escape before stealing a police truck and then carjacking at least two other vehicles, according to investigators.
"This is more intense than what I thought it was going to be, to say the least," the convicted felon can be heard to say in the Facebook footage.
"This truck is about dead. I need it to get out of the road, which I hope it does because I'm about to steal another car, like right now. This sh*t gonna be intense."
Vance then appears to change vehicles before showing off a gun and insisting to viewers that "this is the real deal, this ain't a joke, this ain't a prank, I'm going f**king live."
Alluding to an apparent grievance or "set-up", Vance also thanks his sister for "believing" in him: "I love you for supporting and believing in me. I know you didn't know nothing about this or knew that this was coming. Thank you for trying to help."
READ MORE: Oklahoma suspect kills 2 with AK-47 after shooting & injuring 2 cops

He then cryptically tells her to "stay tuned to your local news" to see what happens next.
One of Vance's alleged carjacking victims, a woman living at a local mobile home park, was also shot but her injuries are not life-threatening.
A wanted poster issued by the Lincoln County Sheriff's Office also links Vance to the shooting of a motorist along Interstate 40 on Monday.
The suspect was himself injured in the upper torso during an exchange of fire with cops on Sunday, reports Oklahoma 9 News.
Authorities suspect Vance may now be hiding in the Oklahoma County or Lincoln County area and "looking to carjack or steal another vehicle."
"Vance is armed, has shown he will use his weapon on law enforcement officers and civilians, and is extremely dangerous. If you see Vance… please do not approach," a Oklahoma County Sheriff's Office statement reads.
You can share this story on social media: