Emmett Till memorial pierced by gunfire, new tribute in the works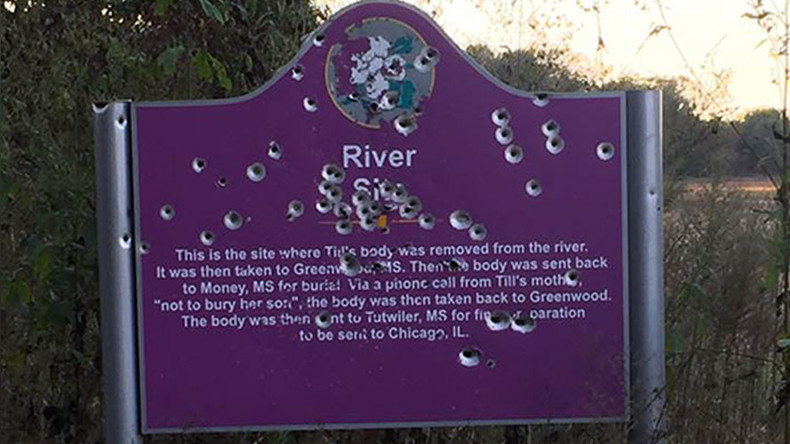 More than 50 bullet holes covering a memorial of Emmett Till, a black teenager killed by a lynch mob in 1955, have inspired a fundraiser for a new tribute at the site where the 14-year-old's body was discovered.
A fundraiser to restore and improve a memorial at the location where Till's body was pulled from the Tallahatchie River in Mississippi has exceeded its goal of $15,000. It was inspired after filmmaker Kevin Wilson Jr. shared a photo of the sign riddled with over 50 bullet holes.
"I'm at the exact site where Emmett Till's body was found floating in the Tallahatchie River 61 years ago," Wilson wrote. "The site marker is filled with bullet holes. Clear evidence that we've still got a long way to go."
Till traveled to Mississippi from Chicago in 1955 to visit family. He was at a grocery store when he allegedly whistled at a white woman. Her husband, Roy Bryant, and another man by the name of J.W. Milam kidnapped Till from his great-uncle's house and brutally beat the teenager before shooting him in the head and throwing his body in the river.
The case became national news when Till's mother, Mamie Elizabeth Till-Mobley, insisted that his funeral be open casket to show how the teen had been beaten beyond recognition. His body was available for viewing for four days and viewed by over 100,000 people, according to The New York Times.
Till's killers were found not guilty by a jury of five white men who spent 67 minutes deliberating, according to PBS. One jury told reporters that they would have finished sooner if they hadn't stopped to drink soda. African-American witnesses who testified fled Mississippi after the trial.
In 1956, Milam and Bryant confessed to brutalizing Till in a story for Look magazine. Due to double jeopardy laws, they were able to do so without fear of returning to court.
This is not the first time a memorial to Till has been defaced. No signs for the teen were erected until 2005, at which point they were almost immediately vandalized, with someone spray painting "KKK" on one of them, University of Kansas Associate Professor Dave Tell told The Times.
Since then, eight signs have been posted. Two have been stolen, including one that sat on land owned by the son of the lawyer who defended Till's killers. Another sign at the riverbank was shot and later stolen.
The difficulty in preserving space to honor and remember Till's legacy has inspired the Emmett Till Memorial Commission to look into other options.
"How do we replace it in a way where this doesn't happen?" Patrick Weems, the commission's project coordinator, asked.
Weems told The Times that the commission is looking into turning the riverbank area into a park with an observational gazebo to reflect or pray.
"I think it's a lot less likely for someone to go out of their way to vandalize a gazebo," he said.
Till's memorial was not the only place that Wilson visited in Money, Mississippi. The filmmaker also stopped by J.W Milam's house, where the sign outside of the confessed murderer's home was in pristine condition and adorned with flowers.
"We have a long way to go," Wilson wrote.