'My son isn't breathing': When seconds mattered, police officer saves 3yo's life (VIDEO)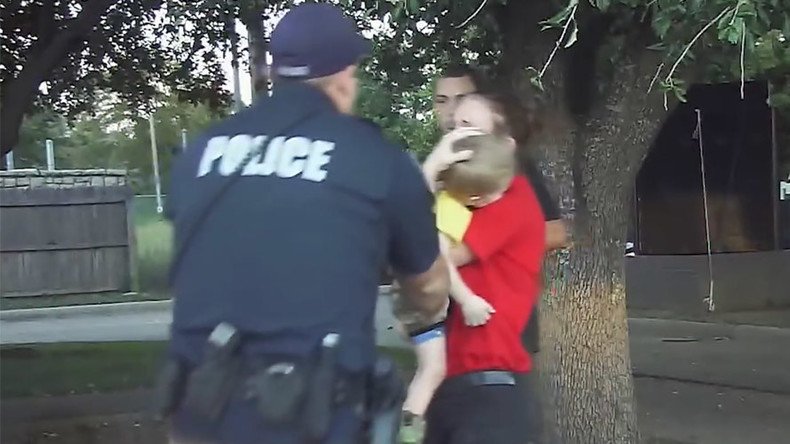 The fast reaction of a North Texas police officer to save the life of a three-year-old boy who had stopped breathing has been captured on audio and in a harrowing dashcam video.
Granbury Police Officer Chase Miller was in his patrol car on the evening of October 12 when he heard a dispatcher call for paramedics to help a child who had stopped breathing at a Kentucky Fried Chicken where the boy's mother was working.
"We are at the KFC, and my son is not breathing," Braydon Geis' father tells the dispatcher in an audio recording from the incident that was later posted on YouTube by the city of Granbury.
"He's not breathing at all?" said the dispatcher.
"He's not responding," said Geis' father, a woman is heard weeping in the background, and calling out the boy's name, "Braydon, Braydon."
Even though Officer Miller wasn't directly dispatched, he drove right over before the ambulance could arrive.
Little Geis had suffered a seizure and "his fever spiked too quickly," his mother, Bethany Hoover, told ABC News.
Dashcam footage shows Miller pulling into the parking lot to find the distraught mother holding her son's limp body.
The police officer calmly approaches the woman, takes the child and lays him on the ground, where he begins CPR.
The mother then steps out of view and the father steps away and crouches with his hands near his face. Later the police officer calls the boy's father over to continue CPR so he can get a CPR mask, stressing, "everything else that's going on around you doesn't matter."
After retrieving the mask, Miller takes over again and performs CPR for three more minutes – and then the boy starts breathing again.
"At that point, he began to cough, and he vomited," Miller told the New York Daily News on Thursday. "And shortly after he started to cry. When he started to cry, I knew we were golden, we were in the clear."
On Tuesday, Granbury Mayor Nin Hullett presented Officer Miller, who has been on the force for two years, with the city's Life Saving Award. He was joined at the ceremony by the boy and his family.
"Office Miller's exceptional performance reflects great credit upon himself, the Granbury Police Department and the city of Granbury," the department said, according to ABC News.
"Our son is the world to us," the boy's mother told ABC News. "That's our world. That's our life."
Deputy Granbury Police Chief Jim Marshall said Miller "is an extremely humble man, and he doesn't consider himself a hero. We found out he didn't even tell his wife about saving a child's life when he got home that night. In his mind he was just doing his job," according to the Washington Post.
You can share this story on social media: