Large chemical spill sends plume across Atchison, Kansas, people evacuated (PHOTOS, VIDEO)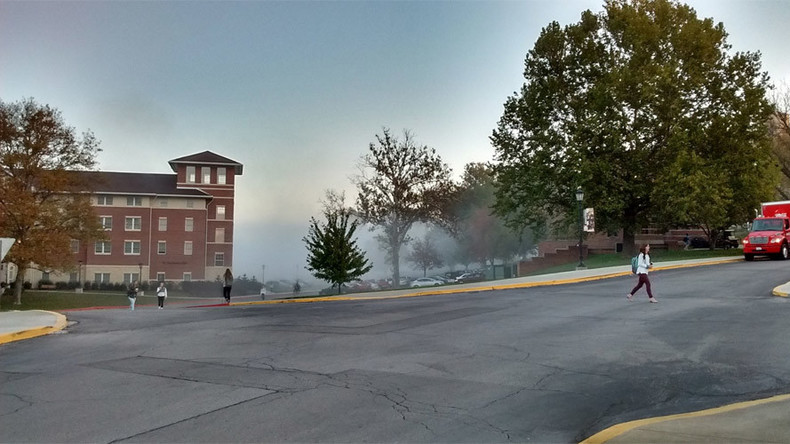 Emergency services alerted residents of Atchison, Kansas there has been a chemical spill. Parts of the town are covered in a cloud of gas and residents report chlorine-like smell. 18 people were treated for respiratory discomfort but no injuries.
Thousands were evacuated from a high school, elementary school and a college.
"If you are not in Atchison, please stay out of town," Atchison County Emergency Management said on Facebook.
Headquartered in Atchison, MGP describes itself as a company where distilled alcohol products and food ingredients are produced.
Authorities have not released details about what kind of chemical leaked.
Residents of Atchison who live north of the plant are being told to stay inside with their doors and windows shut, according to the Kansas City Star.
Reporters on the scene reported a thick fog and chlorine-like smell in the area.
Live footage from KMBC shows a fire truck hosing down a large silo at the plant.
According to the Atchison City Manager's Office, two chemicals were inadvertently mixed together which caused a reaction. No word yet on what two chemicals were mixed together.
"We don't know what chemicals were mixed. All injuires are minor," said Trey Cocking, Atchison City Manager.
Resident told KSHB that sirens alerted them to a problem at the plant. Primary concern now is the plume of chemicals traveling through the north of Atchison.
There was no explosion.
According to multiple reports, at least one of the chemicals is airborne chlorine powder.
The leak started around 8:30 a.m. CT Friday morning. The leak happened when the plant was taking a delivery of a chemical and the the chemical was, put into the wrong holding tank and caused the reaction, according to Cocking.
Cocking said it was safe for everyone to return. HAZMAT was involved. A foam substance was used to treat the leak.
Atchison County officials are closing and evacuating the county courthouse. Benedictine College has been evacuated.
The leak has been contained.
Founded in 1941, MGP has about 300 employees and makes "specialty wheat proteins and starches" along with distilled spirits such as bourbon and rye whiskey, gin and vodka. The company also makes plant-based polymers for petroleum-based plastics, such as disposable cutlery and CD cases. It is headquartered in Atchison, with another distillery in Lawrenceburg, Indiana.
There was an explosion at the plant fifteen years ago and one a few years ago. The plant has been in Atchison since the 1940s.