Wisconsin cop at center of shooting protests charged with sexual assault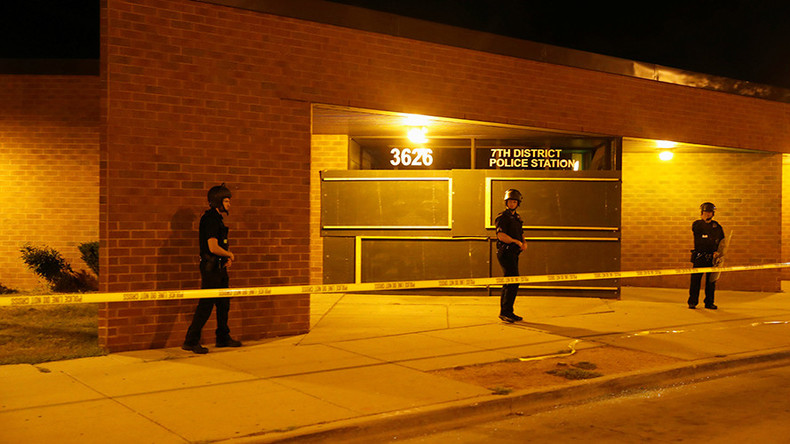 The police officer at the center of massive protests in Milwaukee, Wisconsin over the shooting of a young African American man has been arrested on unrelated sexual assault charges. The officer is also accused of asking superiors to help him cover it up.
Officer Dominique Heaggan-Brown, 24, made headlines in August after shooting and killing Sylville Smith, 23, when Smith ran from a traffic stop. The two men knew each other from high school, Smith's sister told WITI. But on Thursday it was announced that Heaggan-Brown was charged with sexually assaulting a man in August along with other sexually-based crimes.
The criminal complaint against Heaggan-Brown claims that he met a man through Facebook who was looking for other musicians to collaborate with. The two met in a bar in August when Heaggan-Brown was off duty. They watched the protests and unrest in Sherman Park on TV, where according to the complaint, Heaggan-Brown "bragged about being able to do whatever [he] wanted without repercussions."
The man had difficulty remembering anything else after the two left the bar, but he told police that he woke up being assaulted and tried to move but felt drugged and threatened.
Heaggan-Brown claimed that he and the man had been at the bar when the man began acting "weird and unresponsive."
Heaggan-Brown took him to the hospital where staff noted that the man seemed traumatized and "flipped out" when he saw Heaggan-Brown in the hospital. The man subsequently told staff, "He raped me," USA Today reported.
However, Heaggan-Brown claimed that he took the man to the hospital at 4:16 a.m. after the man "began to act weird and unresponsive" at the bar. But later that morning, Heaggan-Brown sent a text message to a supervisor who had mentored him. "Got a separate situation," Heaggan-Brown wrote. "Need your help big time… F***ed up big time… But need to handle this the most secret and right way possible."
The supervisor, Sergeant Joseph Hall, met with Heaggan-Brown, who claimed the sex was consensual but the man "was drunk and had 'medical issues'."
Heaggan-Brown surrendered his cellphone to investigators, who discovered that he had solicited sex from two other people, as well as photos of a naked person that showed signs of "sexual contact." This led investigators to discover an additional sexual assault claim from July 30, as the picture was taken without consent. In addition, the person photographed claimed to have not consented to sexual contact, either.
This brings Heaggan-Brown's charges to two counts of felony second-degree sexual assault, which carries up to 40 years in prison and $200,000 in fines, as well as two counts of prostitution with $20,000 in fines for both and an additional year-and-a-half in prison and a misdemeanor charge of capturing an intimate representation without consent. That last charge can result is up to $10,000 in fines and up to three-and-a-half years sentencing.
Since the shooting of Sylville Smith, Heaggan-Brown has been on paid leave. But Milwaukee Police Chief Edward A. Flynn affirmed that Heaggan-Brown will also face internal charges for violating the department's code of conduct.
Flynn called the charges against Heaggan-Brown "extraordinarily disappointing" and added "It's grave and we're treating it as such."
On Thursday, Heaggan-Brown pled not guilty to the misdemeanor charges and will be back in court next Thursday.
You can share this story on social media: