Trial begins for 120 suspected NYC gang members amid protests over 'racialized terror'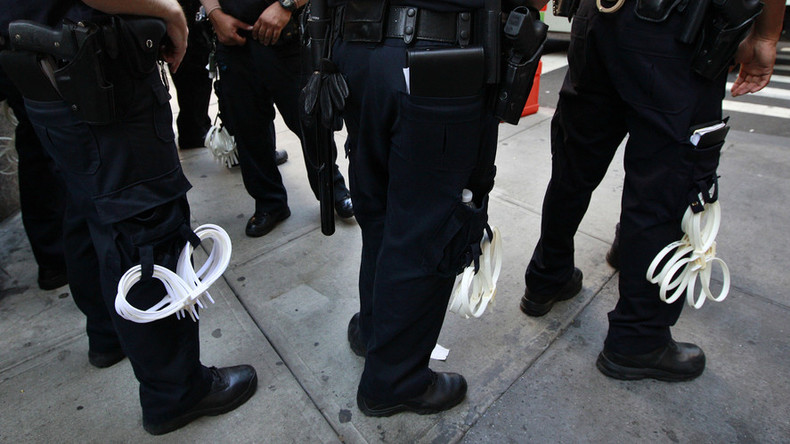 A federal trial has begun for 120 young men accused of being members and associates of two rival street gangs in New York City. The youths are charged with racketeering, narcotics and firearms offenses. Their supporters protested outside the court.
About 30 supporters of the defendants rallied outside the courtroom on Wednesday at the start of the trial.
A supporter read a statement from one of the defendants, whose name was not released.
"I am one of the Bronx 120 and currently incarcerated in federal prison awaiting trial," the statement read. "I was indicted on April 27 with a boatload of conspiracy charges related to gang activity like the rest of the Bronx 120. I was deemed a danger to society and denied bail."
It continued: "I am an American citizen who is proud to be an American and I aspired to live the American Dream. I was raised in the Bronx and happened to live in the community that the Justice Department decided to sweep… I know the law. I should not be federally prosecuted. I am indicated with a bunch of people I have never met before in my life. Someone has told the government false information about me for them to believe I am a big-time criminal."
The defendants were arrested during a massive early-morning sweep when over 700 NYPD and federal officers from the FBI, Bureau of Alcohol, Tobacco and Firearms (ATF) raided homes in the Bronx on April 27 to arrest people believed to be members and associates of two rival gangs. Helicopters and armored vehicles were part of the raid in Eastchester Gardens in the Bronx.
More than 100 suspects were arrested in the blitz and charged in two separate indictments. The defendants, identified by their names and various street names, face charges of racketeering conspiracy, narcotics conspiracy, narcotics distribution and firearms offenses.
According to the indictment, the majority of the suspects are in their early 20s and early 30s.
Prosecutors have alleged the gangs are connected to eight homicides that occurred in the area since 2009 including a 92-year-old woman shot in her home by a stray bullet. They said another incident involved a 15-year old boy who was "stabbed and left to die in the street."
Crime rates across New York are at the lowest level in more than 50 years, with remaining violence mostly concentrated in the city's poorest areas. According to the Intercept, law enforcement agencies have been targeting public housing areas in the city "to monitor, arrest and indict scores of young black and Latino men on broad conspiracy charges that come with decades-long prison sentences."
"What we saw on April 27, 2016 with an alphabet soup of government agencies, including the FBI and ICE, descended on the project and the Eastchester neighborhood that was none other than an act of state terror by the government against the people at the bottom of society," said one protester.
"It was a racialized act of terror. 700 police officers and other officials of the government descended on this neighborhood and terrorized children, the elderly, women and men, and indiscriminately picked up 120 young men, young men of color, and African Americans. Would this nation and this government employ this kind of terror against any other neighborhood? Would this happen in a middle-class white neighborhood? Would this happen in a working-class white neighborhood? I think not," the protester added.
Another protester alleged the raids were part of a plan to move black and brown people out of public housing.
"It is about changing the scope of the city and its racial and ethnic makeup. The way to do that is to get black and brown folks out of public housing," said Shannon from Why Accountability, a Bronx group pressing for public control over the police.Shannon said she had heard the grant housing was due to be torn down by 2020.
"How do you get people out in a hurry? Through raids and convictions. So the same thing happened in Eastchester Gardens, black and brown communities," she said.

The US Attorney Office for the Southern District, Preet Bharara said the raid was "believed to be the largest take down in New York City history," and aimed to "eviscerate… ruthless" street gangs that had terrorized the community for years.
Officials said the alleged gangs are the Big Money Bosses, or BMB, and the 2Fly YGz, or 2Fly.
Authorities said 2Fly mainly operate in and around the Eastchester Gardens housing development, selling drugs including marijuana, crack cocaine and prescription pills and would store guns around playgrounds or in nearby apartments or cars.
BMB primarily operate on White Plains Road from 215th Street to 233rd Street, selling marijuana, crack cocaine and prescription pills while storing guns in abandoned homes and other places near their drug spots, authorities said.
Bharara said they "allegedly wreaked havoc on the streets of the Northern Bronx for years by committing countless acts of violence against rival gang members and innocents alike."
"We bring these charges today so that all New Yorkers, including those in or near NYCHA public housing, can live their lives as they deserve: free of drugs, free of guns and free of gang violence," he said.