Suspicious US company tried to frame Assange as 'pedophile' and Russian spy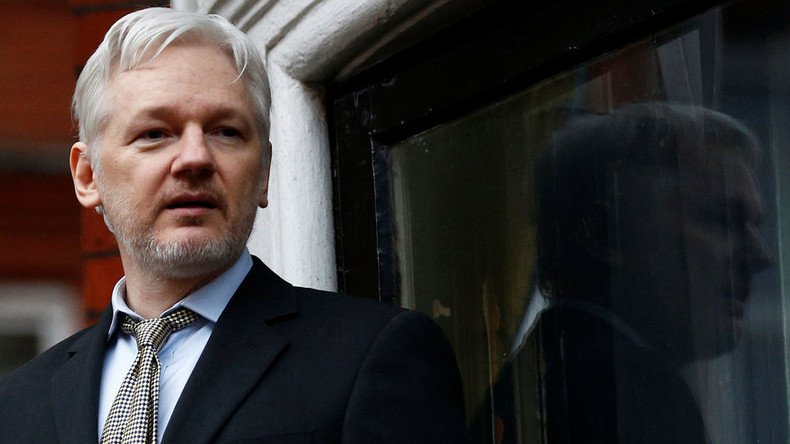 As WikiLeaks continues to release thousands of emails from Hillary Clinton's campaign chair John Podesta, its co-founder Julian Assange has been accused of being a pedophile and taking $1 million from the Russian government by a US company with DNC ties.
The accusations stem from an online dating site ToddandClare.com, which claims Assange was involved in the online grooming of an eight year old Canadian girl who was on holidays in the Bahamas late September.
According to T&C's account, a Canadian family reported their eight-year old daughter was "sexually molested" online by Assange through the Toddandclare.com website. The eight-year old was allegedly using her older sister's account.
T&C filed a claim against Assange through the UK courts on October 4. The following day, Assange gave press conference at the Ecuadorian Embassy in London, promising to release the Podesta emails.
T&C claimed Assange contacted them offering to promote KATIA, an anti-rape project for online dating, but WikiLeaks' account and copies of emails contradict this.
WikiLeaks say T&C contacted Assange's lawyer in September, offering Assange $1 million to appear in an ad for the dating agency. WikiLeaks' legal team responded with a request for more information. The agency detailed an agreement and said the million dollars was from the Russian government.
It also required Assange to send the following tweet as part of the deal, "@realdonaldtrump @jamiedimon @natrothschild1 Go to ToddandClare.com on Nov 7. Noon. Putin will be live. #brexitneverhappened"
Assange's legal team rebuffed the offer describing it as an "elaborate scam designed to entrap Mr. Assange's reputation into unwanted and unwarranted publicity."
READ MORE: Impacting US election: Ecuador cut off Assange's net because Clinton leaks 'breached impartiality'
T&C also filed a report with the UN Global Compact website on October 4, saying there was an active criminal investigation against Assange for abusing an eight year old in the Bahamas, alleging there was evidence in chat logs and photos.
The company urged the UNGC to reconsider its support for Assange, following the UN Working Group on Arbitrary Detention statement earlier this year that his detention was arbitrary and that he should be released.
READ MORE: UN panel rules Julian Assange arbitrarily detained, entitled to liberty & compensation
"It is our firm conviction that our learned colleagues at the Office of the United Nations High Commissioner for Human Rights have made an error in supporting Mr Assange, who is under investigation in the Bahamas for child sex offenses using our dating website" T&C's report said.
The company, which succeeded in becoming a member of the UN Global Compact in May, went on to refer to Assange as a fugitive and rapist. "Wikileaks' threats to defame us, to ruin us, to destroy our business using electronic methods, are criminal and may constitute cyberwarfare and/or terrorism under US law," its report read.
T&C was subsequently delisted by the UN Global Compact on October 12, citing "integrity" issues. In a statement on its website, T&C described the decision as "Kafkaesque and un American."
On October 11, four days after the first batch of Podesta emails were released, news of the pedophile claim was shared as a press release through PRWeb which claimed T&C had started court proceedings in the UK.
PR Newswire published a release from T&C on October 13 which said the company had been "warned by WikiLeaks to expect actions on our UN membership if we didn't drop our UK court case."
The company then posted on its Facebook page a fax to Canadian Prime Minister Justin Trudeau, which requested his office "intervene on behalf of a vulnerable Canadian family who are distraught and frightened."
The fax accused the Bahamas police of "mishandling" the investigation and passing information to a UK tabloid. It claimed the family had experienced "anti-Caucasian racism."
READ MORE: Silencing Assange: 'US establishment in panic over Clinton WikiLeaks emails'
On October 18, the Daily Kos released its Assange pedophile story, which was pushed by Democrats across social media.
The next day, it was removed and the following message appeared. "I wrote this blog post yesterday based on a report filed with the UN, and I collated further information posted elsewhere over the past week or so," the author of the original post, Salicyclic said. "(Wikileaks tweeted a link to the report 7 days ago.) I've deleted the post because the evidence was fabricated."
Further investigation into the company raised more questions. T&C claimed it was established in 2011, but searching the internet archive WayBack Machine shows the earliest capture of its website was in October 2015. The earliest post on its Facebook page was from January this year.
Wayback also captures the company's address as being 645 7th Street, San Francisco, CA 94103, despite its current claim that it is based in Texas. The current Texas address appears to be a warehouse.
Some Redditors have connected dots between T&C and Premise Data Corporation, an "intelligence" corporation which uses data analytics, by cross-referencing the dating site's old address with Premises. T&C's original address and Premise's current one are a 7-minute drive from each other, according to Google Maps.
Premise's board of directors includes former Treasury secretary Larry Summers, part of Podesta's Center for American Progress, currently headed by Clinton campaign adviser Neera Tanden.
Images of Premise founder David Soloff with Clinton have been circulated online. His twitter account is now private.
WikiLeaks' own investigation into the company found images of the girls on the dating site had come from elsewhere on the internet.
You can share this story on social media: