Michigan billboard mocks Trump in Arabic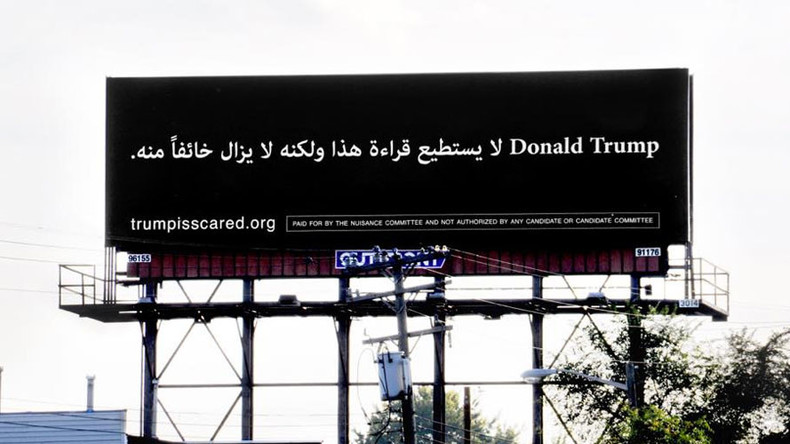 A Dearborn, Michigan billboard is mocking GOP presidential candidate Donald Trump in Arabic. The billboard was paid for by a super PAC opposed to Trump's candidacy.
The words "Donald Trump" appear in white lettering in English on a black billboard to the right of a message in Arabic that translates as "Donald Trump, he can't read this, but he is afraid of it."
The billboard is located on Interstate 94, just outside Dearborn, which has a high concentration of Arab-American residents, and will stay up through Election Day on November 8. Michigan is considered a swing state.
The Detroit Free Press said over 330,000 people drive by the billboard each week.
The campaign was bought by the Nuisance Committee and cost $4,850.
"We came up with it because we believe that Donald Trump's hateful rhetoric is not based on reality. It's based on fear," Melissa Harris, a Nuisance Committee spokeswoman, told the Detroit Free Press. "And we think that irrational fear is what's driving his anti-immigrant message."
At the bottom of the billboard is the web address trumpisscared.org, which features a timeline of Trump's previous statements about Muslims.
The group has already conducted a billboard campaign against Trump.
In September, ABC reported the group had purchased a billboard outside Chicago O'Hare International Airport which read, "If Trump is so rich how come he didn't buy this billboard?" and directs people to trumpdoesntpaytaxes.com.
That campaign was created to coincide with the timing of Trump's fundraising and campaign stops in Chicago and its suburbs.
The Nuisance Committee is co-founded by Max Temkin, whose grandfather Ira Weinstein was shot down over Germany during a World War II combat mission and was interned in a POW camp. At the camp, Weinstein and other Jewish POWs banded together to form a "nuisance committee" to irritate their Nazi captors in ways that wouldn't get them killed.
The group said "the comparison between Trump and Hitler is intentional."