'Civil unrest': Demonstrators gather in El Cajon after memorial of Alfred Olango removed (VIDEOS)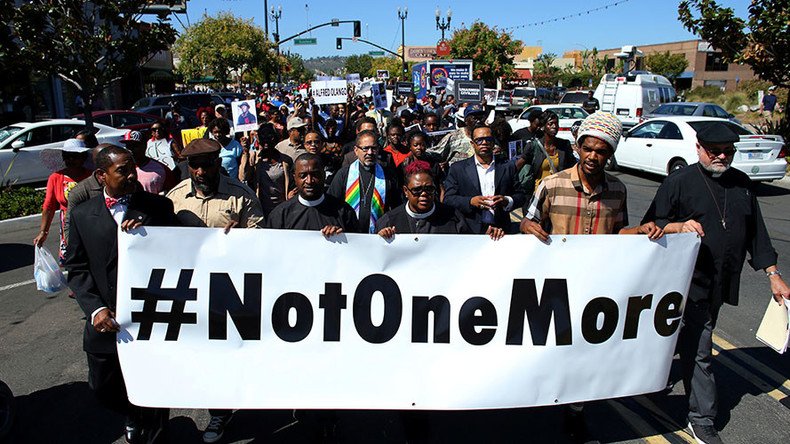 Protesters have taken to the streets of El Cajon, California, after the shooting of African-American man Alfred Olango by police and the removal of a memorial to the dead man. Officers have described the situation as "civil unrest."
Demonstrators gathered in the San Diego suburb at around 6pm on Monday, according to El Cajon Police.
Footage posted on social media showed protesters gathered while police stood guard.
Another video showed officers marching toward the demonstration.
Reports have claimed some of the protesters are armed, citing information obtained through a police scanner.
Some citizens told local news outlet NBC 7 that the demonstration was called because a memorial for Olango, set up near the restaurant where he was killed last month, was taken down on Sunday.
Police are asking motorists to avoid Broadway and N. Mollison Avenue, where the protest is taking place.
Olango was shot and killed in the parking lot behind a restaurant by El Cajon officers Richard Gonsalves and Josh McDaniel on September 27.
Police arrived at the scene following a 911 in which the person on the phone, reportedly Olango's sister call described the 38-year-old as "not acting like himself," while stressing that he was mentally ill and unarmed.
It took police 50 minutes to arrive at the scene. As an officer prepared a taser, Olango reportedly drew an object from his pocket and held it in both hands "like you would be holding a firearm," Police Chief Jeff Davis said. Police then opened fire, shooting Olango multiple times.
It was later revealed that Olango was holding a cylindrical vape pen. Footage of the shooting was released by the El Cajon Police Department.
The 38-year-old's death led to days of protests in El Cajon, in which demonstrations ranged from peaceful to violent.
You can share this story on social media: