Double tornado strikes Oregon coast with 130mph winds (VIDEOS, PHOTOS)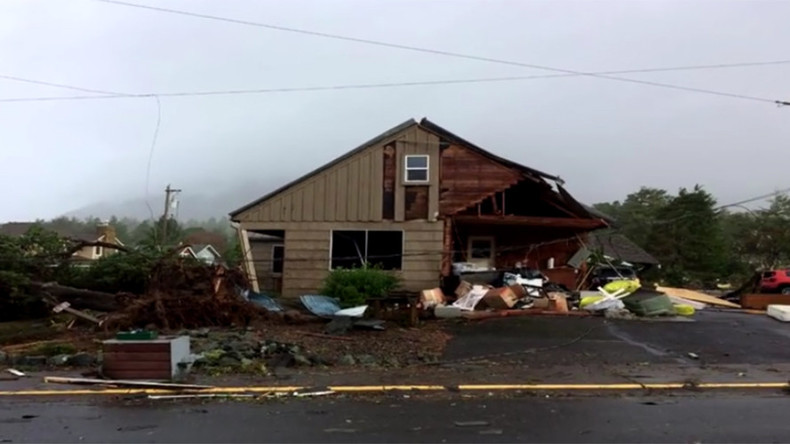 Two tornadoes walloped Oregon on Friday causing widespread damage, power outages and injuries. Authorities are warning of further storms to come.
A state of emergency has been declared in the coastal town of Manzanita as one of the tornadoes barreled right through the heart of the town, damaging 128 homes, KATU reports.
The National Weather Service (NWS) in Portland said the storm brought winds of up to 125-130 mph.
A second tornado hit the community of Oceanside a short time later, but the damage wasn't as severe.
"Both of these tornadoes started as waterspouts and became tornadoes as soon as they hit land. We were able to confirm they were on the ground through video evidence," the NWS said.
Tornadoes are quite rare in Portland, with Friday's twisters the worst to hit the area in more than a decade. "We issued 10 tornado warnings this morning. Since 2005 we have never issued more than 2 tornado warnings in the same day, and have only issued 5 tornado warnings," the weather service revealed on Facebook.
The heavy rain created dangerous conditions throughout the region, especially for road users. In Seattle, a 4-year-old boy suffered serious injuries when he was hit by a falling tree branch.
Seattle fire treating/transporting to HMC 4yom w/serious injuries and father w/minor injuries after being struck by falling tree branch.

— Seattle Fire Dept (@SeattleFire) October 14, 2016
The NWS said that Saturday will be another stormy day. They warned people to be prepared for power outages and advised against venturing outside.