#WomenWhoVoteTrump unite behind Republican candidate despite lewd comments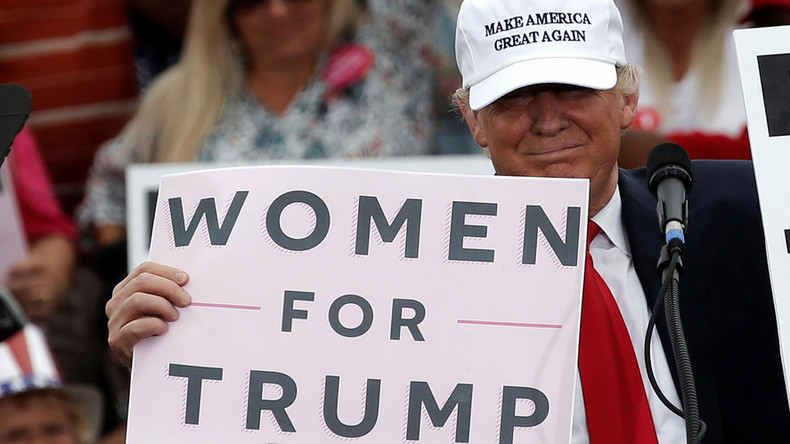 Despite Donald Trump's derogatory "locker room talk" about women and sexual innuendo, a trending Twitter hashtag reveals the Republican presidential candidate still has female backing.
Trump's past has come back to bite his White House bid in recent weeks, with the billionaire businessman being forced to apologize for a 2005 audio recording in which he was heard bragging about grabbing women "by the p****."
READ MORE: 'Grab them by the p***y': Leaked audio of Trump causes GOP backlash

More recently, a 1992 recording of Trump emerged showing how he made inappropriate and lewd comments about a young girl.
"I am going to be dating her in 10 years. Can you believe it?" he can be heard to say, as the child travels up an escalator.
But it appears the series of embarrassing revelations have not struck a chord with some of Trump's female supporters who have taken to Twitter to defend the Republican candidate under the hashtag #WomenWhoVoteTrump.
READ MORE: #BasketOfDeplorables-gate: Angry backlash after Hillary calls half of Trump supporters bigots

The online movement was trending on Twitter on Friday and provides an insight into the reasons why some women are overlooking Trump's latest scandals and standing by "their" man.
However, the popular hashtag thread has been condemned by those opposing the controversial presidential candidate for being "disgusting" and "sad".
It comes two days after Donald Trump's son, Eric, reportedly circulated a map in a fundraising email with an infographic supposedly depicting the Republican's rising popularity throughout the US. The map looks very similar to one posted to Twitter on October 11 by journalist Nate Silver, claiming it represents how the results of US presidential election would look if only men voted.