FDNY employees to file $150mn racial discrimination complaint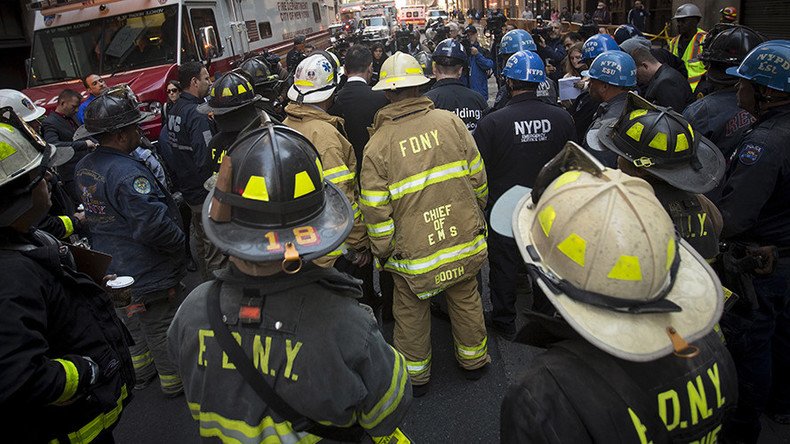 Ten former and current employees filed a racial discrimination complaint against the New York Fire Department (FDNY) claiming they were unfairly discriminated against over pay and advancement.
Employees announced on Wednesday they had filed a complaint against both FDNY and the city via the US Equal Employment Opportunity Commission, and plan to file a $150 million federal anti-discrimination class action lawsuit against the FDNY and the City of New York.
The latest complaint comes two years after FDNY settled a nearly $100 million lawsuit over racial discrimination charges over its lack of hiring black and Latino firefighters.
The complaint states that "the Department has engaged in a pattern and practice of systemic, ongoing, continuous an intentional discrimination against them [black employees] for a period including, but not limited to, the past twenty years from the year 1996 until the present day (2016)."
The FDNY settled an anti-discrimination lawsuit in 2014 over the hiring of uniformed personnel but civilian employees have seen little change to their status and are still subject to race and discrimination, according to the complaint.
"I have been an administrative manager for 15 years. There have been three white male managers hired sometime after me in the same civil service title," said Frances Dempsey, a 62-year-old African American woman who has worked for FDNY for the past 41 years. "Even though I have been in the title for a much longer period of time and have received commendations from the Fire Department for my work performance ... three are paid $25,000, $30,000 and $35,000 dollars a year more than me in the same title."
John Coombs, an advocate for civilian employees told RT both Mayor Bill de Blasio and the Fire Department Commissioner Daniel Nigro knew about the problems two years ago when employees first approached them, and they have meet repeatedly since then.
"They heard their concerns, they had documents, emails, hard copies, they heard from the individuals. There is no excuse for not addressing this. We didn't want a lawsuit," Coombs told RT.
"What we find is that individuals, who are educated and more experienced and entitled longer are repeatedly discriminated against when it comes to salary, promotion and opportunities to advance, they are left out, even when most of them have received 'excellent' evaluations. That is wrong." said Coombs.
Coombs, a former president of the Vulcan Society, headed group that led the federal lawsuit against the FDNY over unfair hiring practices for black and Latinos firefighters.
The lawyer, Peter Gleason, representing the civilian employees in the federal class action lawsuit, and a former fire fighter, told reporters that every time he litigates against the FDNY he receives death threats.
Coombs said for civilian city employees union contracts that ensure equal salaries for positions, don't apply. He said if a salary is typically in the $48,000 to $52,000 they found that black employees are earning just over $48,000 for long periods of time and they never hit the top salary for years.
"The FDNY is an interesting lab study. It has been white and male for almost its entire 150 years. You have in a very diverse city this pocket of heterogeneity. It has a huge tradition of families coming into it," Ginger Otis, author FireFight: The Century-long battle to integrate New York's Bravest, told RT.
"It an interesting study on how networking can support one group because if one group has a certain amount of control about who finds out about the jobs, who knows the inner tricks of the job, and for a very long time the Fire Department was like the wild west," said Otis. "The civil service meant nothing. The well-connected got the jobs. They've cleaned up their act in the past recent decades but it a text book study of 'opportunity hoarding' – how one group can get and keep hold of a very good thing."
Otis said the FDNY has remained predominantly northern European, including Italians, for most of its existence. She said becoming a firefighter changes your life, few city jobs can match it, when the average fire fighter salary after five years is $100,000 for eight days work, and great benefits.
"A lot of times in the fire department, before it was hiring outside staff, it used its own injured firefighters to do its clerking, and to do its bureaucratic work," Otis told RT. "That idea of 'use your own and hire from within' exists today. It has gotten much better but it is still run by predominantly white men and there is still a big block in these entrenched places, high bound by tradition, to stop and look at their own behavior."
Otis said one of the things that emerged during the lawsuit was how incredibly weak its human resources department was, and how incredibly behind its vetting services are, its training to be aware of diversity, its inherent bias, none of that has been spoken of or discussed in the fire department. She suspected the same could probably be applied to its civilian hiring.
This is the latest complaint after a series of rulings to fight discrimination within the FDNY over the last several years.
The city settled with the Vulcan Society, the black firefighters group, for $98 million settlement in March 2014, after it was sued for alleged discrimination.
Five female Emergency Medical Service officers, a division of the FDNY, announced a $1 million settlement in 2013 of a seven-year-old gender discrimination lawsuit against New York City, breaking what their attorney called the department's "female firewall."
An appeals court in 2013 ruled that the FDNY must undergo court supervision for five years to ensure it doesn't discriminate against blacks and Hispanics in its hiring practices.
A federal Judge Nicholas Garaufis in 2011 appointed an independent monitor to oversee the recruitment, testing and hiring of new firefighters for at least 10 years.
The legal team said it wants to give the EEOC time to investigate the group claims and then plans to file the federal anti-discrimination class action lawsuit possibly by the end of the year.
Rebecca Myles, RT
You can share this story on social media: