Activists targeted oil pipelines in 5 states, 9 arrested (VIDEOS)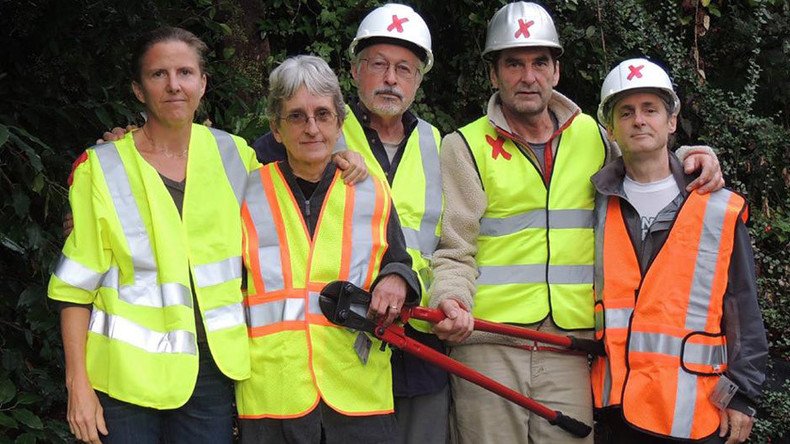 A group calling itself "Climate Direct Action" vandalized five pipeline valve stations to protest the movement of tar-sands oil from Canada into the US and to show solidarity with ongoing protests in North Dakota. Nine were arrested.
Using social media and camera crews to cover their direct actions, five activists tampered with pipeline valve stations in Minnesota, Montana, North Dakota, and Washington state on Tuesday morning to protest the movement of tar-sands oil from Canada and in support of Standing Rock Sioux Tribe.
"Nine were arrested," Jay O'Hara, spokesman for Climate Direct Action told RT. The activists, and some of the film crew, were arrested for trespassing.
The pipelines belong to Enbridge, TransCanada Keystone, Spectra Energy Express pipeline and Kinder-Morgan's Trans-Mountain pipeline.
Shannon Gustafson, a spokeswoman for Enbridge told the Duluth News Tribune that company valve stations Lines 4 and 67 in Minnesota had been tampered with but no oil had been spilled. She said it wasn't clear if the line had been shut down or if there was any damage.
"This morning's activities at our valve site in Leonard, Minnesota are unacceptable. The actions taken to unlawfully trespass on our facility, use bolt cutters to cut chains off our valves and then attempt to turn the valves to stop the flow of oil were dangerous and reckless," Gustafon wrote in a statement. "These are criminal acts that endanger the public and the environment."
All five activists remained at the valve stations to be arrested after sticking symbolic flowers into valves.
RT asked O'Hara whether he thought the activists trespassing and tampering of the pipeline valves "endangered the public and the environment."
"The real issue in the US is under the law it is perfectly legal to put at risk the stable global climate upon which civilization depends," said O'Hara. "So while these direct actions may have been trespassing, they were upholding a higher morale law, and upholding the basis of the US Constitution that we have the right to life, liberty and the pursuit of happiness for this generation, and future generations."
Washington State
Ken Ward, 59, used bolt cutters to cut the lock of a pipeline depot in Anacortes, Washington state , and tampering with the valve before he was arrested.
Police told him he is being arrested for trespassing and asked whether he shut down the valve. Ward said in he thought he had. The film crew with Ward were also arrested
The activists said they are calling President Obama to try and have his emergency powers keep the pipeline closed and to shift away from fossil fuels.
"There is no plan of action, policy or strategy being advanced now by any political leader or environmental organization playing by the rules that does anything but acquiesce to ruin," said Ken Ward in a statement released by Climate Direct Action.
"Our only hope is to step outside polite conversation and put our bodies in the way. We must shut it down, starting with the most immediate threats – oil sands fuel and coal."
North Dakota
Police arrested the whole of the North Dakota team: Michael Foster, 52, Sam Jessup, and documentary filmmaker Deia Schlossberg.
"I am here to generate action that wakes people up to reality of what we are doing to life as we know it," said Michael Foster in a released statement. "All of our climate victories are meaningless if we don't stop extracting oil, coal and gas now."
Minnesota
Emily Johnston, 50, and Annette Klapstein, 64, were arrested after shutting down the the valve station for Lines 4 and 67 for Enbridge's tar sands pipelines in Minnesota.
Enbridge's spokeswoman said the company valve stations Lines 4 and 67 had been tampered with but no oil was spilled. She said it wasn't clear if the line had been shut down or if there was any damage.
Activists said they simply turned emergency valves to stop the flow of oil without causing any damage.
Montana
Leonard Higgins, 64, was arrested at Spectra Energy's Express pipeline in Coal Banks Landing, Montana.
"Because of the climate change emergency, because governments and corporations have for decades increased fossil fuel extraction and carbon emissions when instead we must dramatically reduce carbon emissions; I am committed to the moral necessity of participating in nonviolent direct action to protect life," said Higgins in a released statement.
You can share this story on social media: