Firefighter plunges 30 feet as helicopter rescue effort strikes electricity pole (VIDEO)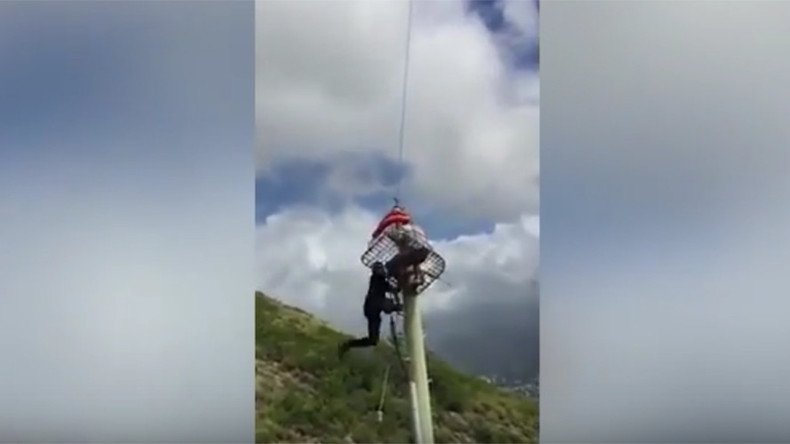 Footage of a Honolulu helicopter rescue captured the terrifying moment a firefighter fell 30 feet from a safety basket while trying to help a stricken hiker on a volcanic mountain range.
The heart-stopping incident, which occurred on September 2, unfolded as aircrew from the Honolulu Fire Department responded to an emergency involving a rambler near the Diamond Head Crater tourist trail.
Footage of the accident shows a helicopter rescue basket carrying two men strike a pole and then power lines during the attempt to winch them to safety.
While one man manages to hang on, the firefighter, who is not wearing a safety helmet, tumbles to the rocky ground below, sustaining serious injuries.
The smash is currently being investigated.
The unidentified member of the Hawaii Fire Department is still recovering from the incident at home. He broke ribs and suffered internal injuries, according to Khon 2.
It's reported that the pilot of the MD520N helicopter has been taken off duty while the Honolulu Fire Department continues to assess the reason for the collision.
The head of Hawaii's firefighter union has accused the department of not focusing on safety.
"We get incidents that happen and it just continues to be business as usual," Robert Lee, leader of the Hawaii Firefighters Association, told KITV.
You can share this story on social media: