Dozens injured as passenger train derails on Long Island in New York State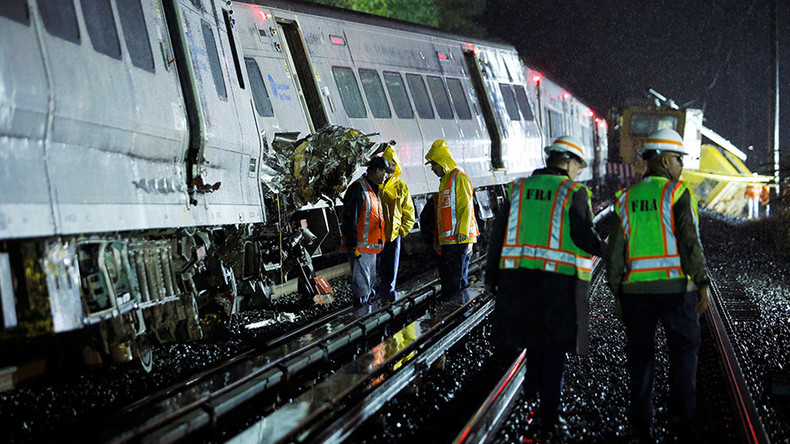 At least 29 people were taken to hospital after a Long Island Rail Road (LIRR) commuter train with about 600 passengers on board derailed in New Hyde Park in Nassau Country on Saturday night after it collided with a railroad work train and set it ablaze.
The accident took place about a half-mile (less than a kilometer) east of the New Hyde Park station around 9 pm local time, according to Nassau County police. Upon collision, the work train caught fire when the first three of 12-car passenger cars were thrown off the tracks
Train service has been suspended in the area.
Luckily, no fatalities connected with the crash have been reported. Nassau County Executive Ed Mangano said at a briefing that 29 people were taken to hospitals with broken bones and concussions, but none of the injuries presented an immediate risk to life.
Dozens of others received first aid for bruises and minor injuries at the site.
New York Governor Andrew Cuomo said earlier that the train was carrying some 600 passengers and promised to conduct a prompt investigation into the cause of the accident.
The reason for the collision is still not clear, and it is unknown if the work train was moving at the time of the collision.
Witnesses who were inside reported that the commuter train was rocking from side to side on the trails before the derailment and sparks could be seen from the windows.
"And the train was really [going] back and forth and shaking… and then I look out the window and I saw a spark or a fire type thing… and then the train abruptly stopped and the car in front of mine was tilted as if it wasn't fully on the track," Lindsay Javitz, a passenger, said, as cited by NBC New York.
Photos from the incident on social media show that glass had shattered in at least one of the cars.
Railroad service has been suspended in both directions between Jamaica and Hicksville on the Ronkonkoma, Port Jefferson, and Oyster Bay rail branches, and there is currently no estimate as to when trains will be back in operation. Commuters are advised to take other LIRR branches, News 12 Long island reports.
The Long Island Rail Road in one of the busiest rail lines in New York and the whole of North America. On average, it transports 300,000 people every weekday.
This incident in New York's Nassau County follows another train accident that occurred in Hoboken, New Jersey just nine days ago, when a train carrying 250 passengers plowed through a bumper at the end of tracks and crashed into a platform. A woman who was standing on the platform died and over a hundred people were injured in that accident. An investigation found that that train had been traveling at twice the allowed speed limit.