Trump says 'he never was perfect' after backlash over groping & married sex comments (VIDEO)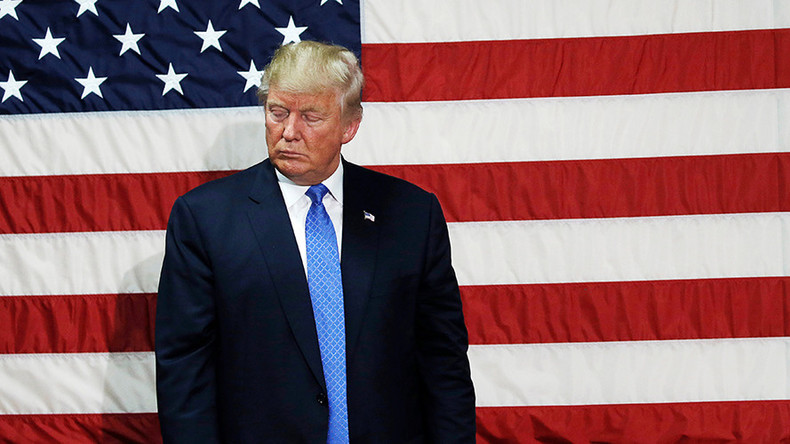 Donald Trump has defiantly apologized since the leak of a tape from 2005 caused public furor, with many slamming the US Republican presidential hopeful for his comments boasting about groping and sex with married women that were caught on a hot mic.
In the statement, Trump said, ten years later, he is a changed man, but he still used the opportunity to direct a barb at Bill Clinton, bringing up the ex-president's infidelities, while promising to talk more about the Clintons' past in coming days.
"I never said I was a perfect person, nor pretended to be someone I'm not. I've said and done things that I regret and the words released today on this more than a decade old video are one of them. Anyone who knows me knows these words don't reflect who I am. I said it, I was wrong and I apologize," Trump said.
He went on to brand the tape as a "distraction from the important issues we are facing today."
"Bill Clinton has actually abused women and Hillary has bullied, attacked, shamed and intimidated his victims," he concluded, adding: "See you at the debate on Sunday."
READ MORE: 'Grab them by the p***y': Leaked audio of Trump causes GOP backlash
In the leaked tape, Trump talks about groping and having sex with married women.
"I did try and f*** her. She was married," he said of an unidentified woman.
"I've got to use some Tic Tacs, just in case I start kissing her. You know I'm automatically attracted to beautiful — I just start kissing them. It's like a magnet. Just kiss. I don't even wait," he continued.
But then, things really get out of control.
"And when you're a star they let you do it. You can do anything. Grab them by the p***y," Trump said.
The leak triggered massive outrage, both among politicians and all over social media networks.
US Democratic presidential candidate Hillary Clinton posted on Twitter, "This is horrific. We cannot allow this man to become president."
Democratic vice-presidential nominee Tim Kaine also took to Twitter to say, "This kind of behavior is disgusting. It makes me sick to my stomach."
Even fellow Republicans made sure to distance themselves from Trump.
Republican National Committee chairman Reince Priebus said, "No woman should ever be described in these terms or talked about in this manner. Ever."
Former Republican presidential nominee Mitt Romney said on Twitter, "Hitting on married women? Condoning assault? Such vile degradations demean our wives and daughters and corrupt America's face to the world."
The uproar was not confined to just the US, however, as condemnation poured in from all over the world.
Celebs were spitting with rage – actor Robert de Niro said he wanted to punch Trump in the face, as quoted by Variety, while writer Stephen King wondered, "Hey, Donald! Did you kiss your mother with that mouth?"
Donald Trump has, in fact, been on "a few scandals a week" spree, it would seem: a few days ago, he insulted war veterans with PTSD (Post-Traumatic Stress Disorder), calling them "not strong," and last week it emerged that he appeared in a short (non-sexual) cameo for a soft porn Playboy video.