Police use military helicopter to seize one cannabis plant from 81yo arthritis patient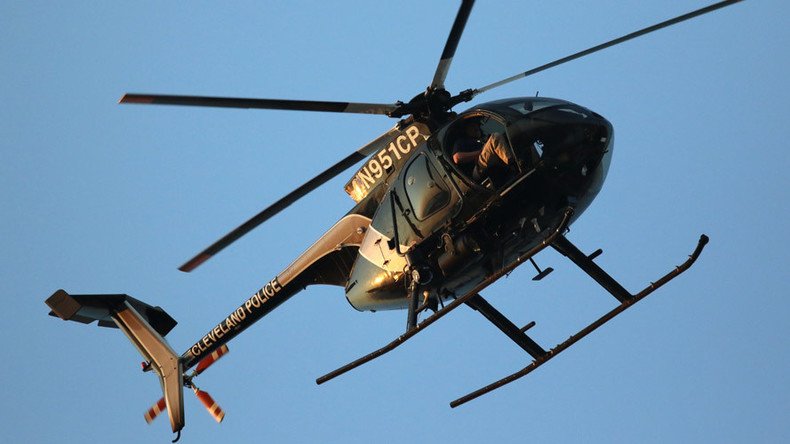 Massachusetts State Police and the National Guard sent a helicopter, several vehicles and a handful of troopers to an elderly woman's house to chop down one cannabis plant and haul it away in a pickup truck.
Margaret Holcomb, 81, grew a single marijuana plant in her garden, which she used to ease her glaucoma and arthritis ailments, The Washington Post reported.
She hadn't attempted to obtain a medical marijuana card due to the difficulty of getting a doctor to sign off on it, she told The Daily Hampshire Gazette. She said traveling to the dispensary in the next town and paying for marijuana grown by someone else would be too costly.
The behavior of the police was questionable in other ways, Holcomb's son, Tim, told the Gazette. He said he was told that as long as he did not demand that a warrant be provided to enter the property or otherwise escalate the situation, authorities would file no criminal charges.
He believes their actions constituted an "unlawful surveillance and illegal search and seizure."
State police spokesman David Procopio told the Gazette that authorities also seized 43 plants from other properties during the raid. The largest of these seizures involved 20 plants, while several properties netted only two plants each. None of the property owners were charged, Procopio said.
The Drug Enforcement Agency (DEA) gave Massachusetts $60,000 for marijuana eradication efforts, Procopio said, citing federal documents.
The program's stated goal is to "halt the spread of cannabis cultivation in the United States." But with an increasing number of states legalizing recreational marijuana use in recent years, some lawmakers are questioning whether an $18 million federal program to pull pot plants makes sense.
Last year in Utah, a member of a cannabis eradication team testified that a medical marijuana law could lead to an "epidemic of stoned rabbits" and other animals. The DEA officer's remark prompted online ridicule.
Under Massachusetts law patients may grow as many marijuana plants as necessary to meet their medical needs, provided they have a medical marijuana license.
In 2014, marijuana eradicators in Georgia raided a retiree's garden after mistaking okra for marijuana.
Georgia K9, SWAT units can't distinguish cannabis from okra, but they sure love guns and helicopter rides. Wheeeee!! http://t.co/nnaDqwB3Xx

— Adam Blackstone (@MeadBadger) October 7, 2014
Holcomb's case is providing fresh ammunition for critics of strict anti-marijuana enforcement, particularly given voters in Arizona,California, Maine, Massachusetts and Nevada will consider whether to legalize the plant for recreational use on November 8.
You can share this story on social media: