'McDonald's, Hands Off My Buns': Employees protest sexual harassment in more than 30 states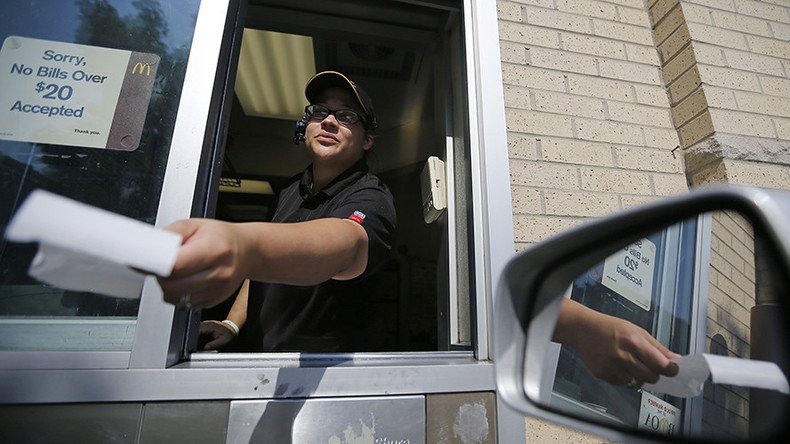 Female workers at McDonald's are sick of being treated like meat. They are accusing the Golden Arches of not protecting employees against sexual harassment. Backed by the minimum wage campaign "Fight for $15," workers are taking to the streets to demand better treatment.
McDonald's claims to have a zero tolerance policy towards sexual harassment, but over a dozen sexual harassment complaints against the fast food giant paint a different story. In the past month alone, 15 different sexual harassment complaints have been filled with the Equal Employment Opportunity Commission (EEOC) against McDonald's.
As a result, workers in 30 US cities joined in a lunchtime protest to draw attention to what some believe is a widespread problem. Protesters held demonstrations outside of the restaurant, where they held up signs reading, "McDonald's, Hands Off My Buns," and "McDonald's, Put Some Respect in My Check."
In addition to filing complaints, sexually harassed employees shared their stories of feeling unsafe in the workplace with no repercussions for their harassers. CyCei Monet, an employee in Flint, Michigan, wrote in her complaint that a manager rubbed his genitals on her and said he wanted to "do things" to her. Her complaints to superiors allegedly fell on deaf ears.
"McDonald's monitors everything we do — from how fast the drive-through is moving, to how we fold our customers' bags," she said on a phone call with reporters. "Yet when I filed a complaint against my shift manager for regularly sexually harassing me — which included him showing me a photo of his genitals — McDonald's had no response."
The inaction prompted Monet to quit.
"I really needed that job and the money, and I considered remaining silent," she said. "But I believed McDonald's had my back and would be horrified by the way I was treated. I was wrong."
She's far from alone. A video from "Fight for $15" shows both men and women sharing their devastatingly similar experiences.
"I reported it at least five or six times," said one female former employee who described being harassed by a female coworker who would follow her into the bathroom. But despite these complaints, "The store manager did not do anything."
Another woman told "Fight for $15" that "nothing happened" after reporting a supervisor who would touch her inappropriately and "grabbed me like, real roughly."
"The only thing I could do was push him off," she said. Her request to change locations was ignored by the general manager, so she tried to go above his or head to get help.
"I went to the corporate, I wrote to the corporate and I called to the corporate."
Yet here she is.
The problem is not limited to McDonald's. In fact, 40 percent of women who work in fast food experience sexual harassment, according to a report from the Heart Research Association. This number is 60 percent higher than any other industry, according to "Fight for $15."
McDonald's is no stranger to sexual harassment complaints, or lawsuits resulting from ignoring them. A 2008 EEOC lawsuit against a Durango, Colorado McDonald's franchise was settled for over half-a-million dollars, but the harassment employees endured is alarmingly similar to the recent batch of complaints.
Female employees ranging from 15 to 17 years old claimed of managers spying on them while changing, supervisors lifting their shirts to bite their breasts and also offering favors in exchange for sex. The lawsuit claimed that the franchise owner "was aware of the sexual harassment, both because some employees complained to management and because some managers participated in the harassment."
Sexual harassment is not limited to women either. In 2010, McDonald's settled another EEOC lawsuit for $50,000 when "an assistant store manager made lewd comments to a teenaged crew member and touched, spanked and hugged him in a way that made him very uncomfortable." The teenager was between 16 and 17 years old when the harassment occurred.
A third EEOC lawsuit against a McDonald's franchise owner in Wisconsin was settled in 2012 for $1 million. The lawsuit represented three women by name who reported working under the same hostile conditions. One complained that the franchise owner "failed and refused to take prompt and appropriate action to correct the harassment," forcing one woman to quit. The other two women were fired after complaining about their coworker's behavior.
"As the country's second-largest employer, McDonald's has a responsibility to set standards in both the fast-food industry and the economy overall," Kendall Fells, organizing director for "Fight for $15," said in a statement.
The most recent EEOC complaints were filed with assistance from "Fight for $15," an organization that is dedicated to unionizing fast food employees and improving their work conditions.
You can share this story on social media: