Bombing Assad not in US interests, but 'options' aren't off the table – White House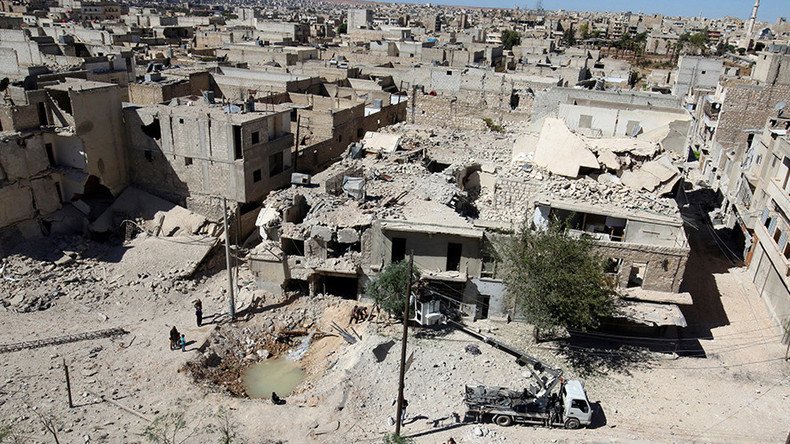 The US says bombing the Assad forces is unlikely to reduce violence, but nothing can be taken off the table. Previously, a report alleged that Washington was planning to hit the Syrian Army, prompting a warning from Russia against any missile or air strikes.
"The president has discussed in some details why military action against the Assad regime to try to address the situation in Aleppo is unlikely to accomplish the goals that many envisioned now in terms of reducing the violence there," White House spokesman Josh Earnest told reporters Thursday.
Even more so, he said, striking the Syrian government forces might be counter to America's national interests.
"It is much more likely to lead to a bunch of unintended consequences that are clearly not in our national interest," he said.
However, the White House does not seem to be ruling out the possibility of the US turning to the military solution entirely.
"I'm not going to take any options off the table," he added. "I am not going to be in a position [we're] taking options off the table for the commander-in-chief."
According to a recent report, some of top Washington officials are considering striking positions of the Syrian military without a UN Security Council resolution.
As one administration official has told the Washington Post, there had been an offer to "get around the White House's objection to striking the Assad regime without a UN Security Council resolution" and "carry out the strikes covertly and without public acknowledgment."
On Thursday, Russia's Defense Ministry issued a warning to the US-led coalition, cautioning it not to proceed with strikes given a large deployment of S-300 and S-400 air defense systems.
Even though these air defense systems are primarily meant for protecting Russia's troops stationed at the Tartus naval supply base and the Khmeimim airbase, the ministry warned that there is a risk that the radius of the weapons reach may be "a surprise" to all unidentified flying objects.
When asked to comment on Russia's warning, Earnest said that he did not see "that statement" and went on to stress that America's intent was to reduce the violence.
"There is no interest in escalating the violence in Syria. We want to see the violence reduced. That is what we're working to try to affect," he said.
US-led coalition jets bombed positions of the Syrian government forces on September 17, resulting in the deaths of 83 servicemen. Washington said the airstrike was a mistake, but Damascus claimed the incident was "blatant aggression."
You can share this story on social media: