10yo boy with special needs in critical condition after being set on fire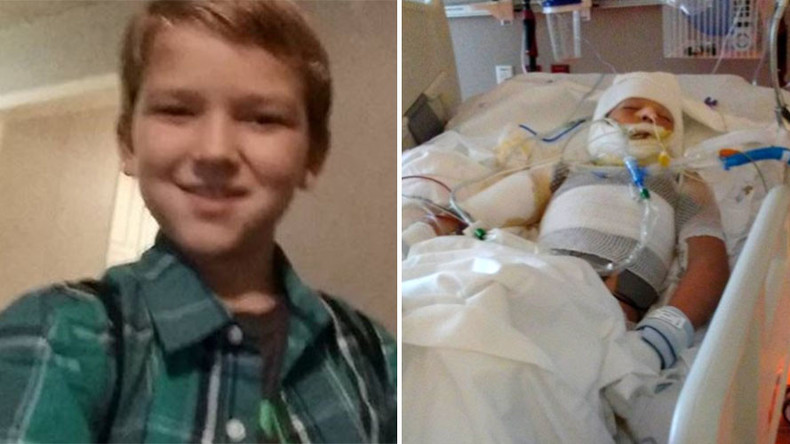 One Texas juvenile has been arrested by Kerrville police and charged with first-degree arson for reportedly setting a 10-year-old boy with special needs alight, causing him serious injury.
Kayden Culp is seriously ill after he was allegedly intentionally set on fire when playing in a field on Sunday. The boy was reportedly doused in gasoline by one boy and set on fire by another.
He remained in an induced coma at San Antonio University Hospital Wednesday where he's receiving treatment for severe burns which cover more than 20 percent of his body "from his ears to his bellybutton", San Antonio Express News reports.
Culp exhibits autistic behavior, although he has never been formally diagnosed, and was often picked on by kids for a speech disorder linked to hearing impairment, according to relatives.
"This was no accident!" wrote the boy's mother Tristyn Hatchett on her Facebook page Tuesday.
"The other boys who were there have been telling kids at school that it was not an accident, that it was intentional," said Hatchett to the San Antonio Express.
"He considered these guys his friends, but they would make fun of him and pick on him and tease him. He was usually the brunt of that kind of joke, but he kept playing with them. There's no reason they should not already be incarcerated."
READ MORE: Texas lawmakers want schools to teach kids how to behave during traffic stops
At least one person "responsible for causing the victim's severe burns" was arrested and charged with first-degree arson, according to Kerrville Police Department, however the suspect's name is not being released as he is under the age of 18.
A crowdfunding page to help Kayden's mother with medical expenses has been set up and has already generated over $20,000.