Correction officers among 80 people indicted for running prison criminal enterprise
Published time: 6 Oct, 2016 02:39
Edited time: 6 Oct, 2016 13:00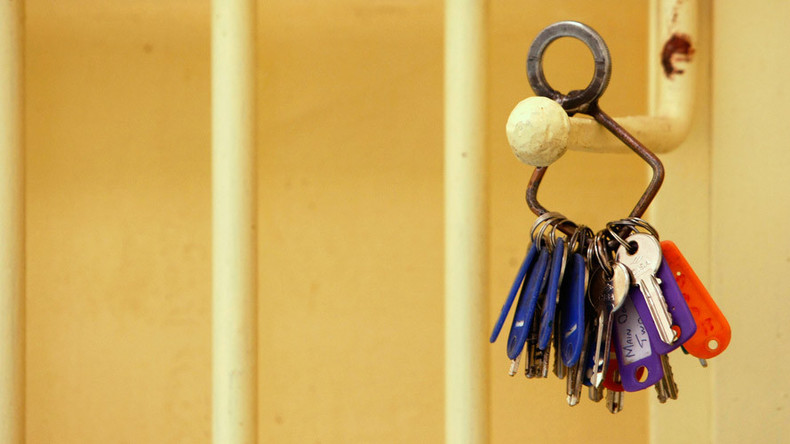 A federal grand jury has indicted 80 defendants, 18 them corrections officers, for running a massive criminal enterprise in Maryland state prison that involved sex, drugs and violence. The case involved so many defendants that hearings were held in three courtrooms.
The case centered within the Eastern Correction Institution in Westover, Maryland and charged corrections officers, 35 inmates and 27 others outside the prison with a vast conspiracy involving officers taking bribes to sneak heroin, cocaine, cell phones, pornographic materials and other contraband into the facility.
"Prison corruption is a longstanding, deeply-rooted systemic problem that can only be solved by a combination of criminal prosecutions and policy changes," Rod Rosenstein, the US attorney for Maryland, said in a statement, according to the AP.
The announcement came with pre-dawn raids in which federal authorities plowed into the prison, and served warrants across the state.
Nine correctional officers were charged with "abusing their positions of trust as sworn officers… by engaging in illegal activities for the purpose of enriching themselves and engaging in sexual relations with inmates."
Thirty-five inmates were accused of soliciting corrections officers to smuggle contraband into the medium-security men's prison, to be sold for a "substantial profit," and 27 others are charged with facilitating the illegal activity. The prison housed more than 3,300 inmates on the state's eastern shore.
The indictments follow a three-year investigation initiated by state prison officials.
"One of the most significant aspects of this indictment is that it illustrates what happens inside a prison when this sort of systemic corruption flourishes," Rosenstein told reporters, according to the Baltimore Sun. "Pervasive corruption such as we saw in this case leads to the breakdown of the legitimate operations of the institution."
Prosecutors allege one correctional officer, Stephen Wise, arranged an inmate's stabbing after the inmate filed a complaint that led to Wise's reassignment from a prison housing unit. At the time Wise owed the inmates smuggled items. He is facing civil right violations.
Prosecutors said their investigation began in 2013 when a correction officer blew the whistle on the conspiracy. Prosecutors used extensive wiretaps during their investigation. Despite security measures at state prisons, officers were able to conceal items in their crotch are or their hair, underwear or in sanitary napkins "internally," prosecutors said.
The indictment alleges the "going rate" for corrections officers to smuggle contraband into the prison was $500 per package. The drugs were sold for far more than their street value, with payments made over PayPal using contraband cell phones.
One inmate admitted to paying corrections officers $3,000 a week to smuggle in contraband, while another said he "aimed to make $50,000 before he was released," prosecutors said, according to the Baltimore Sun.
The case is the latest but largest indictment targeting corruption in state-run facilities in recent years. In two prior cases, 44 people were indicted at the Baltimore city jail in 2013, and 24 were indicted at the Metropolitan Transition Center in 2009 – all involved the Black Guerilla Family gang corrupting officers' ranks.
The union that represents employees at Maryland's prisons said the shortages of correctional officers had itself led to dangerous conditions, with offices fatigued and stressed from working overtime, and that the state needed to commit to hiring more.
"Our officers want to stand with people with the utmost integrity and safety, to make sure that they have safe working conditions in a very dangerous job," said Patrick Moran, president of the local AFSCME council, according to the Baltimore Sun. "We want to make sure that the department is hiring an adequate number of people to make sure that there are enough eyes and ears on the ground, to ensure that there are checks and balances, to ensure bad people aren't doing bad things."