DEA orders opioid production cut by 25% in 2017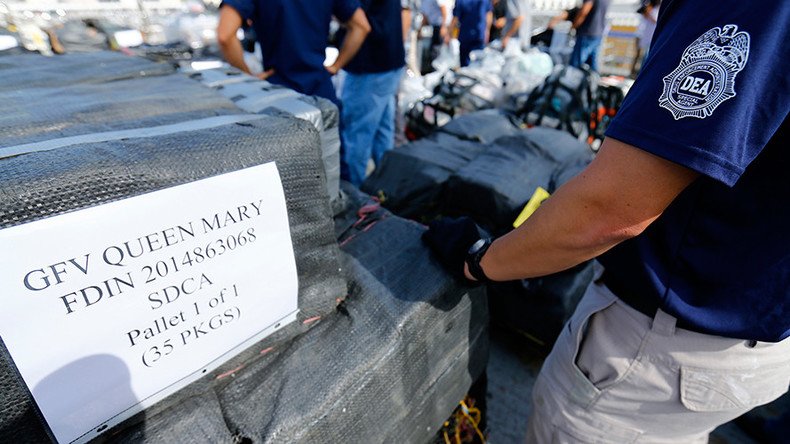 The Drug Enforcement Administration has ordered manufacturers to cut production of opiate and opioid medication by 25 percent or more in 2017, citing falling demand. Some medicines, like hydrocodone, will be cut as much as 34 percent.
The agency said demand for the opioid medicines, represented as prescriptions written by DEA-registered practitioners, had decreased, according to sales data from IMS Health, and amid growing concern over the abuse of prescription painkillers.
The DEA regulates the total amount of a controlled drug that can be produced each year, necessary to meet the estimated medical, scientific, research, industrial, and export needs, and for the maintenance of reserve stocks. The cuts affect Schedule II drugs like oxycodone, hydrocodone, fentanyl, hydromorphone and morphine.
The cuts are mostly being made to the reserve stock supplies, as the DEA allowed more production of opioids than usual from 2013 to 2016, adding a 25 percent "buffer" to prevent shortages.
The cuts come as more people died from drug overdoses in 2014 than in any year on record, according to the Centers for Disease Control and Prevention. More than six out of 10 of these overdoses involved an opioid. Synthetic opioids like fentanyl, which the singer Prince overdosed on in April, are also killing a skyrocketing number of people.
"The 2015 National Survey on Drug Use and Health released last month found 6.5 million Americans over the age of 12 used controlled prescription medicines non-medically during the past month," said the DEA in its release. That's "second only to marijuana and more than past-month users of cocaine, heroin, and hallucinogens combined."
In 2012, lawmakers received reports of a "crisis of epidemic proportions" that was wreaking havoc on 40 percent of Americans: chronic pain. Some researchers doubt the validity of the study that claimed that more than 100 million Americans suffered from the condition. The study made no mention of the rising numbers of overdoses from OxyContin, Vicodin and Percocet that had quadrupled from 1999 until 2012.
Policymakers have been trying to contain the problem.
In 2011, Florida Governor Rick Scott started cracking down on pain-management clinics that were suspected of dispensing too many opioids. Prescription-drug overdoses dropped within the first year. But heroin deaths rose 39 percent, as people who were cut off from their legal pain medication turned to the illegal drug.
Back in March of this year, the CDC released guidelines for doctors who prescribe opioids for chronic pain. These provided strategies for figuring out dosing, as well as assessing risk. Several states have passed measures that limit the use of opioid prescriptions.
In March, Massachusetts Governor Charlie Baker approved legislation that limits first-time opioid prescriptions to seven days' worth of pills.
In June, the DEA said heroin use in the US had tripled from 2007 to 2014, leading to an expanding health crisis, according to a new report. The DEA's findings also showed deaths involving the opioid tripling in recent years, while deaths due to synthetics were also on the rise. In addition to the tripling of heroin use from 2007 to 2014, deaths involving heroin increased at about the same rate from 2010 to 2014, from 3,036 to 10,574.
"We tend to overuse words such as 'unprecedented' and 'horrific,' but the death and destruction connected to heroin and opioids is indeed unprecedented and horrific," said DEA Acting Administrator Chuck Rosenberg in a statement. "The problem is enormous and growing, and all of our citizens need to wake up to these facts."
What is different about the current epidemic is its location in suburban areas and outlying counties rather than the inner cities as was the case in 1970s and 1980s. Also different is the purity and price of heroin. In 1981, the average retail-level purity of heroin was 10 percent; by 1999, the purity had increased to an average of 40 percent. In 1981, the average price per gram was $3,260, and by 1999, the price had decreased to $622.
The DEA has been criticized for being too lax in regulating the drugs. Senator Richard Durbin (D-Illinois) pointed out at a hearing in June that, in 2014, the agency approved enough opioid pills to be manufactured "for every adult in America to have a one-month prescription."
In response, Chuck Rosenberg acknowledged, "I think we're part of the problem."
You can share this story on social media: