Flint faces new outbreak of contagious disease as residents scared to wash hands
Published time: 4 Oct, 2016 18:16
Edited time: 5 Oct, 2016 08:18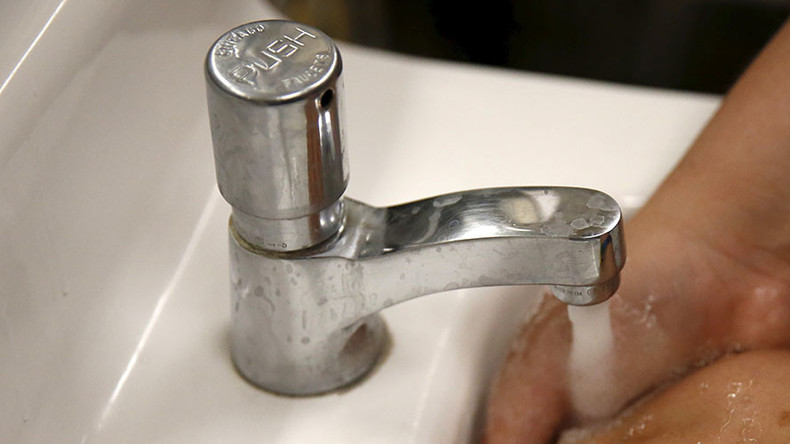 Two years after Flint, Michigan, residents were exposed to unsafe levels of lead contamination in drinking water and an outbreak of Legionnaires' disease, local officials report an outbreak of a highly-contagious gastrointestinal illness, shigellosis.
Genessee County, home of Flint, is leading the state in reported cases of shigellosis, with 84 through September, according to the Michigan Department of Health and Human Services. At least 53 of those cases have occurred within Flint city limits, Jim Henry, Genesee County's environmental health supervisor, told CNN. At least 27 of the Flint cases resulted in hospitalization.
Meanwhile, neighboring Saginaw County has the second-highest cases of shigellosis in the state, with 47, according to state health records.
Shigella bacteria causes about 500,000 cases of diarrheal disease in the US each year. Shigellosis is marked by abdominal pain and diarrhea, which can lead to dehydration. Symptoms usually take five to seven days to pass without antibiotic treatment, according to the US Centers for Disease Control and Prevention (CDC). The bacteria can be spread through contact with contaminated surfaces or ingesting contaminated food and water.
The latest outbreak is likely due in no small part to area residents' distrust of Flint's water supply, which in 2014 and 2015 was subject to lead contamination long ignored or inadequately addressed by local and state officials to the detriment of residents' health. The contamination crisis is also believed to be related to an outbreak of Legionnaires' disease in the city in 2014 that led to 12 deaths.
Henry said local skepticism of the Flint water supply has led many to alter bathing, handwashing, and other hygiene habits, likely contributing to the spread of the shigella bacteria. For example, some residents have come to depend on baby wipes.
"But baby wipes are not effective, they're not chlorinated, it doesn't kill the bacteria and it doesn't replace handwashing," Henry told CNN. "People have changed their behavior regarding personal hygiene. They're scared."
Cases of shigellosis in Genesee County peaked in June, with 28 cases, the Detroit News reported citing state health records. The county health department has since issued an advisory warning residents of shigellosis.
Henry claimed the state has, at times, been less than responsive to calls for assistance, CNN reported. He said when he told the state department of health of the spike in shigellosis cases in August, the department told him to "contact the CDC."
"During the time that MDHHS [Michigan Department of Health and Human Services] refused to communicate with us regarding Shigellosis, we had several more cases, which MDHHS knew about because they are reported" in state records, he said.
He said the state offered more assistance in September.
"However, for weeks the state MDHHS stopped communicating and assisting [the county] regarding all disease investigations, including Shigellosis," Henry said. "This action directly compromised the safety and health of our communities."
An MDHHS spokeswoman told CNN the department began assisting Genessee County with its shigellosis outbreak in May. Then for a two-week period in August, it had limited contact with the county based on a protective order mandated by a court related to the department's role in the Flint water contamination investigation.
"It is entirely irresponsible ... to attempt to portray MDHHS's efforts regarding the Genesee County shigellosis situation as somehow lacking. MDHHS has been fully engaged in this effort," the department said in a statement.
Henry has also alleged that inaction by the state, despite warnings and calls for assistance, exacerbated Flint's Legionnaires' outbreak in 2014. He told CNN in February that the state had gone as far as warding off CDC investigators.
"The state stopped our investigation by prohibiting us to communicate," Henry said at the time. "They prohibited communication between the Centers for Disease Control and Genesee County Health Department. They prevented that team to come here and help us find the source."
Between April 2014 and October 2015, the city used water from the Flint River in an effort to save money before switching to water from Lake Huron. The corrosive water from the river caused lead from pipes to leach into drinking water, leading to health problems for residents of the city. An estimated 8,000 children were exposed to water with unsafe levels of lead, and many of the city's lead pipes still need to be replaced.
Flint's water supply was discovered to be contaminated with lead by Virginia Tech researchers last year, and the crisis became a national ordeal, with President Barack Obama declaring a state of emergency in the city.
Though Flint's water is still not officially safe to drink without a filter, Virginia Tech researcher Marc Edwards said in August that consistent testing of Flint's water has shown a steady decrease in the average amount of lead found in the city's homes, from 28.7 parts per billion in August 2015 to 13.9 parts per billion in July 2016, according to Detroit News.